Also known as God's own country, Kerala is truly serene and breathtakingly beautiful. People believe that the deeply rooted culture and exquisite beauty of the state are the reasons for it being called God's own country.
Apart from the gorgeous beaches and stunning backwaters, the state is also famous for its spices and Ayurvedic massages and treatments. In fact, Kerala also boasts the title of being "the Land of Spices" in India. It's also famous for its houseboats, green paddy fields of rice and snake boat race.
A state that is well-known for so many things surely deserves a visit. You can visit the state anytime from July to March. The cold climate, which is from October to January, is the ideal time to visit Kerala for Ayurvedic treatments. July and August should be preferred if you want to witness the eminent boat races of Alleppey.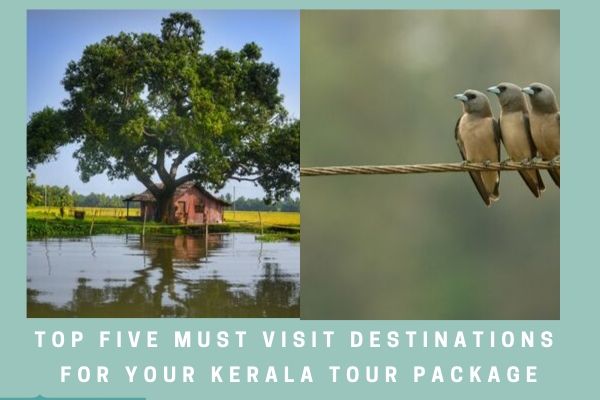 Although, every nook and corner of this state is worth a visit, we know that's not possible in a few days of the Kerala tour packages. Therefore, we have listed five must-visit tourist destinations below for your convenience.
1. Munnar – This small hill station is situated in the Western Ghats in the Idukki district of Kerala. It's easily accessible by road from Cochin International Airport or railway station at Kochi. The distance between Kochi and Munnar is approximately 130km, and it takes around three and a half hours to reach there.
The place is famous for its lush green hills and tea plantations. You can find exotic greenery all around the picturesque location at every angle of your camera. Do not forget to hire a bicycle and go for a ride to enjoy the astounding views away from the hustle-bustle of city life and experience tranquillity.
2. Thekkady – Also located in the Idukki district of Kerala is Thekkady, which is famous for Thekkady Lake and Periyar National Park. You can cover Thekkady and Periyar National Park easily along with Munnar in your Kerala tour packages as its only 90km away from Munnar.
The dense forests of the Periyar National Park are home to the largest elephant and tiger reserves of the country. If you're lucky, you can spot a tiger or elephant during a boat-ride in the Periyar Lake. For those wildlife lovers and adrenaline junkies, there are arrangements available at the park for night camping as well.
3. Alleppey – For most people, when they think about Kerala, they get an image of a houseboat in their mind. Well, Alleppey is the home for these houseboats, beautiful backwaters, and the amazing boat races. You can reach Alleppey from Cochin by road in one and a half hours.
The list of must do's in Alleppey is a pretty long one. However, for those who want to make the most of their Kerala tour package, they should definitely go for a houseboat cruise and stay there for at least a night. The quietness of the houseboat sailing through the backwaters will relax your soul.
4. Trivandrum or Thiruvananthapuram – Being the capital of the state, Trivandrum is a bigger city with more tourist places and many worth-visiting beaches. The Trivandrum International Airport connects Kerala to the rest of the country.
The capital city is famous for its tranquil beaches. Some of the prominent beaches in the city are – Kovalam beach, lighthouse beach, and Varkala beach. Velilake is a backwater lake in Trivandrum where you can enjoy either pedal boating or explore the large lake by speed boat. Apart from beaches, Trivandrum is also known for the historical Padmanabha Swamy Temple. Art lovers adore the temple for its unique architecture, stone carvings, and mural paintings.
5. Wayanad – Situated in north-eastern Kerala, Wayanad is a perfect combination of hills, waterfalls, wildlife sanctuary, historic caves, and spice plantations. The only airport in the close vicinity of Wayanad is Karipur International Airport at Kozhikode. Wayanad is only 100km away from Kozhikode.
As said, Wayanad is a small package in itself with so many different places to visit in a single state. You can either try your luck in spotting a tiger or panther or explore the historical caves that are said to be the oldest remains of human civilization.
You can also go for bamboo rafting on the Kuruvaisland or enjoy the splash of water under the Soochipara waterfalls.
However, whatever your interests are, Wayanad is surely not the place to leave in your Kerala tour package.