If you want to make the most of your property, bi-fold doors are the ideal way to generate more space. Perfect as a flexible solution in open plan living areas or ideal as a gateway to your garden, bi-fold doors allow large amounts of natural light to flow into your property without taking up too much space.
However, finding the right bi-fold door blinds can be tricky. The concertina functionality of your doors means that standard blinds are unlikely to sit right, which will affect the overall aesthetic. Furthermore, choosing the wrong blinds will reduce the sunlight that can stream through your bi-fold doors and minimise their benefits.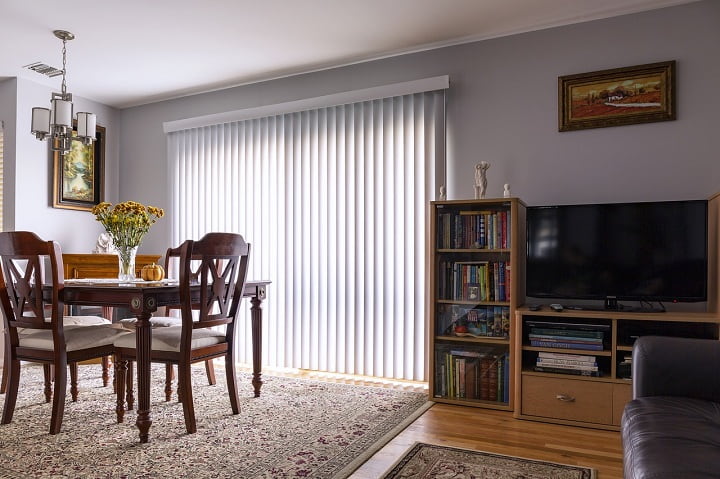 If you're eager to enhance your home with bi-fold doors but you're worried about finding the right window dressings, there's no need to panic. With these innovative solutions, you can transform your home and complement your décor:
1. Choose a screen
If you want blinds that will still allow you to enjoy the view out of your bi-fold doors, consider installing a screen. With enough coverage to give you a sense of privacy, a semi see-through screen will also block UV rays and keep you safe. Screens are particularly popular for bi-fold doors that lead to open spaces, such as your garden, as they enable you to enjoy the view while filtering out excessive glare.
2. Dim-out blinds
When you want a little more privacy than a screen can offer, dim-out blinds are a great option. You'll get more privacy with a medium dense fabric and be able to filter out more sunlight. If you want to prevent a room from overheating in the summer, for example, dim-out blinds can stop the sun from streaming in without the need to sit in darkness.
3. Blackout blinds
If your bi-fold doors lead into your living area, bedroom, TV room, or entertainment den, blackout blinds might be the best choice. With total light suppression, true blackout blinds won't let any external light into the room. Ensuring a good night's sleep or preventing glare on your screens, blackout blinds also maximise privacy and prevent anyone from seeing through your bi-fold doors.
4. Motorised blinds
Whether you choose a screen, dim-out blinds or blackout blinds, make sure they're motorised. Automated blinds ensure you have total control over the lighting and make it easy to adjust your blinds as the sun moves. With the option to connect your blinds to the mains power or use discreet battery packs, adding motorised blinds to bi-fold doors couldn't be easier.
5. Concealed blinds
If you want your blinds to be out of sight when they're not in use, hidden ceiling pockets are the perfect solution. When your blinds are open, they'll be totally out of sight, meaning you can enjoy an uninterrupted view at all times. Alternatively, cassette or fascia finishes provide discreet and unobtrusive alternatives that are ideal for bi-fold or trifold doors.
6. Cellular Blinds
For many homeowners, having increased temperature control is a major benefit of having bi-fold doors. With the ability to throw open your doors and let the fresh air into your home, they're a fantastic way to enhance the air quality and moderate the temperature. Cellular blinds enhance the effect by helping to keep rooms cool in the summer and warm in the winter. The added heat absorption properties of cellular blinds make it easy to maintain a comfortable temperature at any time of year.
7. Inset Blinds
Inset blinds allow you to use separate blinds for each partition of your bi-fold doors. Instead of having one, two or even three blinds covering the area, inset blinds enable you to have a single blind for each pane of glass. Many homeowners love the aesthetic this creates, as well as the added functionality inset blinds offer. With complete control over the lighting, you can adjust the blinds individually to create the perfect indoor environment.
Choosing the Right Bi-Fold Blinds
If you're having bi-fold blinds installed, it's important to think about your window dressings before work commences. Some options, such as hidden ceiling pockets for concealed blinds, will need to be factored in while work is underway. By choosing your blinds in advance, you can minimise the amount of work needed and achieve a seamless finish.
However, if you already have bi-fold doors installed and you want to change your décor, there are plenty of options available to you. With space-saving designs and a range of fittings, finding the best bi-fold door blinds might be easier than you think.