Taking your business online is the quickest and easiest way to make it big in the eCommerce industry. The Covid-19 pandemic has led to a higher dependence on online shopping for consumers. Moreover, new online businesses have been able to develop. It is due to the sudden increase in online shoppers.
The eCommerce industry, including the platforms that power them, is very competitive. Businesses have access to more than 300 eCommerce platforms.
There are too many options for one person to look for the perfect platform. Therefore, we have decided to review the most popular eCommerce platforms. Then, based on your specific needs, you can choose which one suits you best.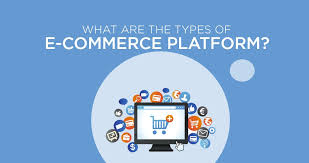 6 Must-Try Ecommerce Platforms
Shopify
Shopify is among the most popular platforms. It has all the features you need to start an eCommerce website from scratch. It is a platform that allows you to build websites and create online carts.
Anybody can set up and use Shopify, regardless of their level of technical skill. And if you need help with digital marketing, consider contacting Natalie Coyne with any questions.
You can sell anywhere with Shopify. Shopify supports many eCommerce platforms. It can also support third-party marketplaces, social media sales, and point of sale (POS) software.
Shopify themes are mobile-friendly. A Shopify mobile app could also take your mobile sales strategy to new heights.
One of Shopify's most notable features is its versatility. Shopify is suitable for startups, small businesses, and large organizations.
Shopify has three different plans.
Basic Shopify – $29
Shopify – $79
Advanced Shopify – $299
Shopify offers a 14-day free trial.
Shopify Plus
There is also a Shopify Plus platform for enterprise-level retailers.
The Shopify Plus platform offers an upgrade to the primary platform. It aims to serve enterprise-level businesses and adds extra benefits beyond the eCommerce platform itself. Larger multinational companies can take advantage of this upgrade.
For companies with large budgets, Shopify Plus is also a good option. The platform simplifies complex technology while handling product lineups across multiple channels. In addition, companies can leverage their automation tools and technical support to scale their businesses.
Prices start at $2000 per month for Shopify Plus. Costs will vary based on the options you choose. You may request a free trial.
BigCommerce
As an alternative to Shopify, BigCommerce is another popular SaaS eCommerce platform.
It comes in two versions, Essentials, and Enterprise.
The Essential plan is for smaller sellers that require no special technical skills. The Enterprise version is for more prominent companies that need more functions.
BigCommerce supports both traditional eCommerce and headless commerce. With the standard model, you can choose a theme and build a store around it.
A headless model is a bit different. BigCommerce powers your backend while maintaining customization functions in the frontend.
A significant advantage of BigCommerce is its inventory management, SEO, and conversion tools. In addition, you'll receive 24/7 customer support via phone, email, or live chat. So, if you ever have questions, you can feel confident knowing that you'll have access to help.
Furthermore, BigCommerce offers enterprise-grade eCommerce solutions and supports B2B wholesale websites.
Performance in eCommerce is one of BigCommerce's most vital points. This platform is one of the best when it comes to performance, security, and uptime.
Magento
Magento is Adobe's eCommerce platform that processes over $100 billion in retail sales every year. Needless to say, it's a trusted platform by many.
With Magento, you can create web-based applications that use drag-and-drop customization. Magento boasts impressive graphic designs. It offers unique solutions for building online stores. Their sites are attractive and engaging to customers.
Among Magento's key features are seamless order management and customer segmentation.
Magento is a good choice for small and medium businesses as it supports over 9,000 extensions. But it does need more development time. It also requires a higher budget compared to the other platforms on this list.
Many users choose to use other eCommerce software over Magento due to its high cost. However, it may not suit new business owners with limited funding.
WooCommerce
As compared to the rest of our list, WooCommerce is unique. That's because it's a plugin and not an all-in-one eCommerce platform.
You can install the WooCommerce plug-in on any WordPress website. It adds eCommerce functions to it.
In addition to selling products, WooCommerce can also manage subscriptions and memberships.
It is fully customizable. PayPal and Amazon Pay are among the popular payment platforms it integrates with. You can also connect MailChimp, PayPal, and other marketing platforms with WooCommerce's extensions.
WooCommerce is an excellent choice for WordPress websites already running on WordPress. Alternatively, it makes sense to create an attractive store but is on a limited budget. It has a wide array of third-party plug-ins and themes for most of your needs.
Squarespace
Squarespace is a hosted website builder with full eCommerce capabilities.  Customers create their web pages by dragging and dropping pre-built templates.
Squarespace is perfect for small and medium businesses with basic eCommerce needs. However, it only works well as a companion to the primary website builder.
If you have a lot of inventory or need a more advanced retail function, you should consider a dedicated eCommerce platform.
Squarespace has a reputation for designing beautiful and modern websites. These high-quality templates are ideal for designers, artists, musicians, and photographers. You can also sell subscriptions and digital products on Squarespace.
You can connect Squarespace with payment platforms like PayPal and Apple Pay. Squarespace also supports many accounting software.
If you're looking to build a portfolio website and monetize it, Squarespace is a great choice.
Wix is another great drag-and-drop website builder. It offers a wide variety of templates and designs that make it easy for beginners. It can also help businesses on a budget create beautiful and functional websites.
You can easily create a high-quality website within minutes. It's all possible with their drag-and-drop builder. Creating pages or stores is also that easy.
If you don't have access to a dedicated web designer, Wix.com is the best eCommerce platform. Aside from being easy to use, the site builder provides vital eCommerce functions. As a result, it can fulfill most of a business' needs.
You can choose from more than 500 templates with Wix. In addition, the site optimizes search engines and mobile devices for you. In addition, Wix's App Market allows you to add apps to your site. These apps will enable you to customize your website.
Many think that eCommerce businesses are just about the product and having them delivered in FedEx boxes. Choosing the right platform to sell your products can also help you expand easily and bring better user experiences.