As far as countries that are all-in-one tourist destinations, you can't do better than Canada. If you're into hiking, mountain climbing, or are simply an outdoors enthusiast; you will find more snow-capped peaks, flora, and fauna than you need to make your fix.
If you're into historical towns or dazzling architecture, you'll find it all there. Looking for vibrant nightlife? You'll be pleasantly surprised at what the Great White North has to offer. Don't let the moniker fool you.
Canada is not only diverse in its touristic offerings but also in its cultural makeup. Many people from all over the world call Canada home, and Canadians themselves are ethnically very diverse. There are many languages spoken in this part of the world. And the diversity and inclusivity extend to religious beliefs, personal and political views.
Two big cities host the bulk of Canada's attractions; Toronto and Vancouver. Here is what you can expect when you visit each of them: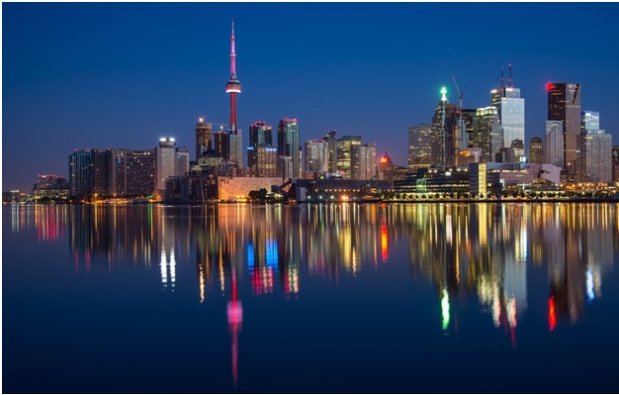 Visit Vancouver
You should visit Vancouver because of:
1. The Mountain Views
This is one of the reasons many skiing enthusiasts head north in December. Vancouver puts you within striking distance of some of the world's best-known ski resorts, including one which hosted the 2010 Winter Olympics.
You don't have to wait for a thick blanket of snow to fall to enjoy Vancouver's slopes. The Grouse Mountains become a haven for summertime hikers in July. After an arduous climb, you can feast your camera lens on breathtaking views over lush greenery. Garibaldi Lake rewards diligent hikers with stunning lakeside views after a steep, grueling climb.
But you don't have to be a hiking lover to feast your eyes on Vancouver's Alpine peaks, glaciers, forests, and lakes; you can book a helicopter tour and view it all from above.
2. Access to the Ocean
Vancouver boasts kilometers of beautiful coastline along the Pacific Ocean, which offers an array of touristic possibilities. You can book a boat ride and go on a whale-watching excursion with one of the companies operating out of downtown Vancouver.
Besides tracking and snapping away at killer whales, you can use your time on the Pacific waters to engage in sport fishing or kayaking.
On the beach, you can relax and soak up some rays, enjoy a swim or whip out your camera and capture the jagged coastline with its hilly, forested backdrop.
3. Known for Gourmet And Michelin-Level Food
Canada may not have a reputation for its cuisine, but spend enough time in Vancouver, and you will wonder why this is the case. What with the diversity of cuisine on offer in Vancouver. Craving Italian cuisine? Try out the pizza at Marcello.
If you're feeling oriental, you can feast on some of the best sushi you'll ever test your palate on at Samurai Sushi. There is also the prospect of digging into freshly caught seafood.
4. Diverse neighborhoods
For a comparatively modest sum, you can enjoy a couple of cozy nights in a lavish, modern hotel suite overlooking Coal Harbour. Stationed in the heart of Vancouver's downtown, you will have the city's hottest attractions within easy reach. For many visitors in Vancouver the best places to stay are closer to the airport to avoid the drama of missed flights.
Visit Toronto
Toronto is an equally great option because of:
1. Friendly and Welcoming Residents
Toronto is right up there alongside London and New York in the discussion about culturally diverse global cities. The wealth of ethnic diversity in Toronto makes for unique interactions and rich cultural experiences. You will find a restaurant serving your favorite cuisine here, no matter which part of the world it's from.
The city offers a wide selection of places to rub shoulders with locals and visitors. Besides innumerable restaurants, you can socialize in nightspots, picnic spots and fitness centers. Torontonians are known to be cordial and very welcoming.
2. Sports Games for Every Season
Are you a biking enthusiast? Why not book a guided bicycle tour of Toronto next summer? Your tour will take you through the city's green spaces to its harbor and beach to its modern cityscapes.
Winter brings with it a broad selection of exciting outdoor activities. Skiing aside, you can indulge in snowshoeing, dog-sledding and many other sports. If you love hockey, you can not only play but schedule a visit to the Hockey Hall of Fame.
3. Niagara Falls Isn't Far
One of the key motivating factors for vacationers settling for Toronto is the possibility of a tour of the renowned Niagara Falls. You can either do so by boat on a cruise or from above on a helicopter tour.
The Final Verdict
So, which of the two cities should you make your destination? In truth, neither is inferior to the other as a holiday destination. Your personal preferences should influence your choice as a vacationer. But don't be afraid to try something new.