Do you experience chronic foot pain? Does walking or running a few miles make your feet ache? Don't worry you are not alone!
As we grow older we realize that our bodies keep giving a lot of signs of fatigue. But we keep ignoring them. We take our bodies for granted. But this is not the best way to go around it.
Taking these signs for granted is one of the worst mistakes we make in life. Our body is very wise, and thus we should listen to it. With time, our schedules have become extremely busy. So, sometimes, we end up compensating our bodies for work.
But as important as work is, it should never come in between our health and lifestyle. These are some common mistakes we keep on making. Over and over again. But we need to break away from these patterns.
One of the first body parts that give a sign of fatigue in our bodies is our feet. Many nerves meet at the feet. So pain in our feet is more common than we think. But ignoring them is ignoring the holistic wellbeing of our health.
That is why whenever we experience any kind of pain in our feet, we should not let it go lightly. We should attempt to resolve it. Thus, this article tells you six pro tips to avoid foot pain during a walk.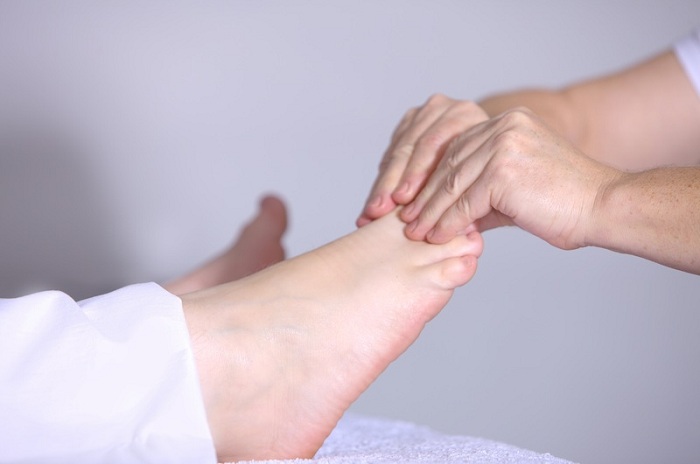 Exercise:
Regular exercise is one of the best ways to treat foot pain. Some injuries like tight muscles, cramps, etc need immediate solutions. Sometimes foot pain also happens due to a stressful lifestyle.
Besides adapting to a healthy lifestyle, one should always exercise. This keeps the blood circulation in our feet going. Thus, exercising is the best way to keep foot pain at bay.
Live a minimalist life:
Walking is always good for health. But it might become a huge problem if we don't care about it.  It will end up giving a stressful time.
That is why adopting a minimalist lifestyle really helps. This includes keeping our diet in check, not overworking, reducing drinking, etc. This has a direct impact on how tired our feet feel. A good lifestyle will keep us on our toes. It will also push us to work better. Thus adapting to a minimalist life is a great solution to aching feet.
Podiatrist:
Our feet need treatment for the continuous and endless things we make them go through. They bear the brunt of all the work we take on ourselves. That is why they deserve the best care.
That is why visiting a podiatrist regularly is one of the best gifts you can give to yourself. A regular meet with the podiatrist will give you the healthy approach to life that you're looking for.
Massage:
After a tiring day, a food massage is extremely good for your physical and mental health. A massage relaxes the muscle knots and makes sure that our feet don't ache.
Foot massage also helps in maintaining our physical health. With massage, every knot is untied and the best blood circulation is restored.
Nutrition:
Are you facing a problem running? Are your feet aching from running a long-distance? It could be from some nutrition deficiency as well.
Thus make sure that you are taking all the nutrients scheduled in your diet. Any lack of this results in pain in our feet.
Our feet are a very sensitive part of our body. Any problem or disbalance could result in foot ache. This is because of how many different kinds of nerves come and meet here.
That is why the pain shows up here. But this pain needs to be solved. Otherwise, it could lead to a bigger crisis.  So, do your feet ache from walking?
Instead of guessing the reason, the best thing to do is to go to an expert. They will tell you the right reason so that you can work on it. Follow their advice seriously. The signs that our bodies give us are important. That is how our bodies communicate with us.
Listen to the first sign of pain and act accordingly. A small change in your attitude can bring a big difference in your life. Thus, live freely but live wisely.