It's not easy to plan a wedding with your daughter, but choosing an elegant mother of the bride dress that matches your style is even harder. After all, you must consider the season, fabric, fit, and color to ensure it's appropriate for your daughter's wedding. With hundreds of styles to choose from, searching for a 'perfect dress' is even more difficult. Don't worry, though, because we lined up a few fantastic ideas for mother of bride dresses. If you can't decide, these are sure to give you some inspiration.
1. Long Sleeve Mother of the Bride Dress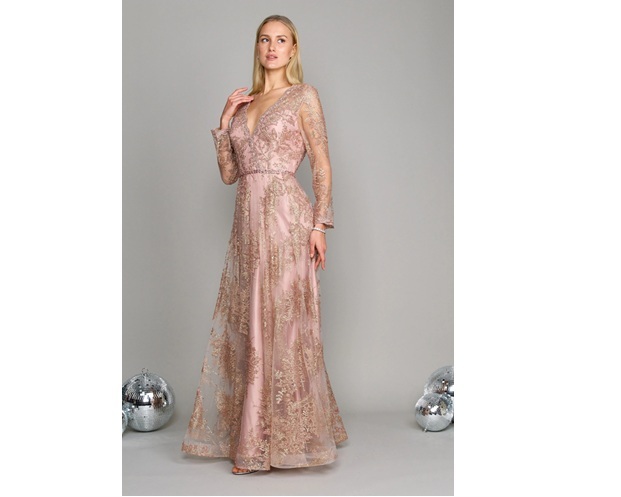 Here's a mother of the bride dress that looks gorgeous but doesn't outshine the bride. It has long sleeves and glitter motifs across the bodice and skirt. The cuffs and V-neckline are embellished with metallic accents, while the empire waist adds extra length to your silhouette. The fabric is tulle over a satin lining, so it's comfortable to wear across seasons. It comes in different colors that you can choose from based on the season or time of day.
2. Mother of the Bride Dress with Ruched Waist
If you prefer elegant mother of the bride dresses without any fancy details, this one's for you. In case you're looking for something modest, it has elbow-length sleeves with structured shoulders and a bateau neckline for appropriate coverage. The minimalist detailing includes a ruched waist and cascade ruffle that accentuates your body shape. The overlapping skirt allows easy movement while still providing a fitted look.
3. Angled Poncho Pant Suit 
It can be frustrating when you're looking for mother of the bride dresses that hide your belly but can't find one. In that case, how about wearing a pantsuit to your daughter's wedding? This feminine pantsuit features solid-coloured pants and lining. It's layered with a glittering angled poncho that has a bateau neckline and solid coloured border for a finished look. Except for the sequined accents, the poncho is made from sheer fabric to reveal the sleeveless lining underneath.
4. A-Line Dress With Rosettes
Covered with three-dimensional rosettes, this is one of the top petite mother of the bride dresses you can find. It has a bateau neckline for adequate coverage and short sleeves that make it great for warmer months. The A-line skirt gives a longer silhouette, while sequined accents add a bit of shimmer – perfect for the occasion! The structured bodice complements your figure and seamlessly transitions into a gorgeous flowing skirt.
5. Short Sleeve Mother of the Bride Dress
When searching for summer mother of the bride dresses, you may come across more cocktail dresses than floor-length gowns. If you prefer lightweight gowns made from breathable fabric, here's something for you. This stunning chiffon dress has short sleeves and a simple empire waist skirt. The bodice, layered with tulle, is decorated with beautiful embroidery and rhinestones along the front and back. The front of the bodice is lined with chiffon, while the back is sheer. It also has delicate embroidery across the bateau neckline and edges of the sleeves.
6. Embellished Gown with Flutter Sleeves 
Looking for simple mother of the bride dresses? This elegant gown has a dusty blue lining and is layered with tulle featuring glittering accents along the front and back. It has sheer flutter sleeves and a round neckline embellished with beads and sequins for a dreamy look. You can pair this with some strappy sandals or stiletto heels and crystal jewellery.
7. Mother of the Bride Pant Suit 
A line-up of classy mother of the bride dresses rarely includes pantsuit combinations, but here we are. This combo includes solid-coloured pants and a sleeveless lace blouse with a bateau neckline. The knee-length lace jacket has elbow-length sleeves and is embellished with sequin accents for some added shimmer. It's suitable for warmer weather since you can take off the jacket to stay cool – and still look fantastic. It comes in different colours that you can choose from based on the season, time of day, or personal preference.
8. Cocktail Dress with Ruched Waist 
Here's something light and breezy to attend your daughter's summer wedding: a knee-length cocktail dress with delicate ruching that gathers to the side. The vintage-looking ornament on the side and the faux-wrap silhouette are reminiscent of classic 90s fashion. Top it off with statement jewellery and stiletto heels to complete the look. This is one outfit you'll want to wear over and over again.
9. Mother of the Bride Dress with Jacket 
If you prefer loose-fitting dresses for mother of the bride, this 2-piece set is comfortable and looks beautiful. The sleeveless dress has a straight silhouette and a midi-length skirt with triangle inserts for a flared look. The front of the skirt and sides of the jacket is decorated with silver rhinestones to create delicate patterns. The jacket falls below the hips and has padded shoulders for some added structure.
10. Lace Gown with Portrait Collar
Classy, unusual mother of the bride dresses are hard to come by, but here's some eye-catching inspiration for you: a lace gown with a portrait collar and sculpted bodice. This elegant ensemble is designed to accentuate your figure with the help of a ruched waist and subtly flared skirt. The cap sleeves offer moderate coverage while ensuring enough breathability for the warmer months.
Conclusion
As the mother of the bride, you'll have to follow a couple of rules when dressing up for your daughter's wedding. Remember to consider the venue, whether there'll be air conditioning, and the color scheme of the event before deciding on a dress. You can also ask your daughter if she wants you to match with her bridesmaids. Hopefully, these ideas for mother of the bride dresses can help you choose the outfit for your daughter's special day.