When the seasons change, so do many trends when it comes to fingernails and even toenails. From the brighter shades of summer that remind us to have fun in the sun to the moodier colors of fall with Halloween and Thanksgiving coming up soon, people's choices in nail color and styles change with the seasons. With the white nails and vibrant color trends of summer in our review mirrors, it is now time to look forward to the fall trends when it comes to nails. With fall comes darker colors, an array of oranges and browns, and much richer metallics. While the classic colors seem to stick around for all the seasons, such as French tips, nude or sheer tones, and dark Reds, this fall season we will see some totally different looks trending in addition to those classic shades and styles. Some of the new trends are glamorous while some are downright grungy, but each is unique and fun and its own way.
Celebrities are already turning to the new fall trends and are giving us a little peek into what we can expect. From the normal traditional French manicures to bronzes, browns, and caramels with gold detailing, fall nail trends promise to be simple yet glamorous with nail art to satisfy everyone's preferences. So, if you've been considering getting a full manicure soon, this is the article for you because we will explore the latest fall nail trends for 2022.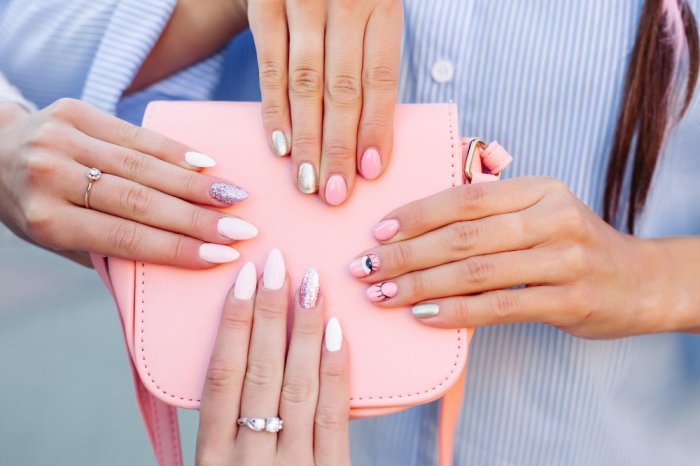 The Emo French Manicure
If you love a good French manicure but want to change it up a bit, you can try out the emo version of a French manicure trend in which the traditional white of the French manicure will be black instead. Many are even using beige as the main color instead of pink to go along with the new black tips that every place the white ones for this interesting fall nail trend.
The Grunge Shades of Fall
The 90s saw the rising popularity of grunge bands as well as grunge clothing and nail trends, and those seem to be making their comeback this fall, at least when it comes to nail trends. These designs and colors take a piece of the world of rock and roll's music as well as leather, animal print, tattoos, and fashion, by using a nice mix of neutral shades as well as browns that you can mix and match to create amazing designs that you may not have ever thought of before.
Foil Finishes for the First Place Win
In keeping with a trend that has been around for a while, the use of a hint of metallic to up your nail game will put you right in line with the foil finish trend for fall. The foils are used to add some sparkle to an otherwise regular and possibly mundane manicure. You can add foil over any type of neutral fall shade to give it a pop of thought color that is exciting and different.
Thermal Nails for Autumn
While many people use the thermal nail trend during the summer with more primary colors of yellow, blue, and red, thermal nails are continuing to be a trend well into the fall of 2022 but with different colors involved, including dark green, navy blue, gray, and even black.
Glamourous Geodes
Many people love and enjoy the gorgeous appearance of having a cool geode crystal design or Polish that will provide their nails with a very multidimensional look and style. More organic shades and designs involving neutrals are normally the way to go to rock this particular nail trend.
Gray Really Does Matter
This fall, you will see a lot of the color gray through people's amazing manicures. This is a nice change from the paler shades and whites of the summertime trends and goes along with wardrobe changes that go from lighter sundresses and bathing suits to comfy sweaters in leggings. You can go for a manicure featuring whatever shade of grey nail polish you like the best, from light to dark, then add some shimmer or even a matte clear coat over top of your grey polish to be in line with this amazing trend.
Like a Chameleon
Using top coats that shimmer over polish in multi-dimensional shades will give the appearance of a chameleon style that will change colors by two or three shades, depending on the lighting that is illuminating your nails.
Glamourous Gold
Gold is a color that transcends all fashion and nail trends as well as time and the rich color of the fall time palettes mix well with some shimmering gold nails. This will also add another layer of texture to your overall look and style.
Gothic Nails
It's only fitting that a list of fall nail trends that include e-mail will also include a gothic look. Using black or red florals can add a gothic inspiration to your punk or feminine manicure.
And there you have it, the latest nail trends for the fall of 2022.