Used car dealers are often supposed to be unprofessional and dishonest, though that's not the case always since there are few reliable used car dealers, which offers few of the best deals in town. When looking for a reliable used car dealer, you must do thorough research to find the most reliable option. Irrespective of the dealer you choose, it is always essential to ensure that you know the worth of the car you are about to buy and negotiate the deal effectively.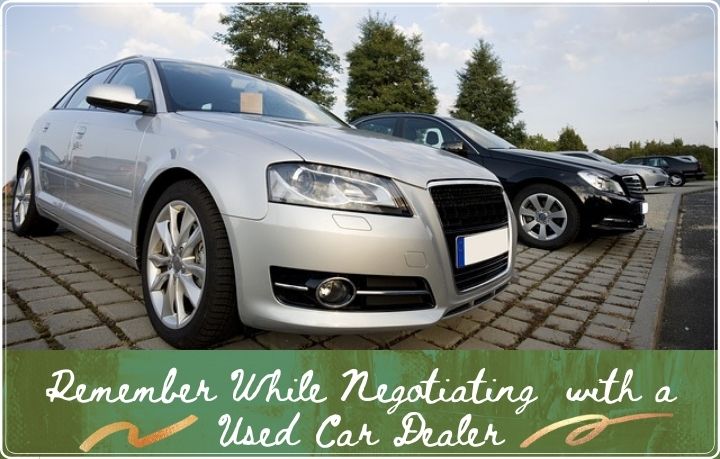 1. Beware of the Cunning Dealers
Used car dealers usually have great negotiating skills. They are well aware of all the ways to tackle their customers with cunning tactics and techniques to make sure they purchase the cars. Surprisingly, there are many customers who fall for these car tactics. Unless you stop yourself from hearing false and unwanted statements, there is no possibility that you would come out of the office without buying a car.
2. It's All About Playing it Smart
One important thing to stay aware of, while negotiating with these dealers is that their negotiable limits will be based on how they perceive you. If they find you to be shrewd and knowledgeable, they will realize that they cannot play around you. Similarly, if they find you to be ignorant, they may charge you way higher than what the car is actually worth. So, stay smart and learn how to negotiate things with a used car dealer.
3. Don't Stretch Your Budget Unnecessarily
Used car dealers will usually try to stretch the limits of their customers. For instance, if you are ready to pay $20,000 at 7.5% on a used car listed for $21,000, they will give you $20,500 at 8.5%. So, better know what your limits are. If you realize that the dealer is trying to stretch your limits, just avoid the offer and walk out. If you continue to show interest, the dealer will feel that he can convince you easily for other things too.
4. Never Believe the Dealers Blindly
The best way to stay diligent about their tactics is to gain knowledge about buying a used car and negotiating all the terms. First, do thorough research and get the general details related to the used car deals. When a dealer tries to mislead you by giving false info, make sure that you confirm if what he's saying is correct. Confirming things is easy with the availability of mobile Internet on your fingertip. The innumerable used car forums can guide you through discussions from other similar customers. For instance, a salesman at the dealership may play up the pros of a car but then may try to downplay its disadvantages. Spend enough time to develop a good understanding of the car you intend to buy.
5. Get a Fair Assessment Done from a Reputed Mechanic
As far as the process of negotiating the price with the dealer goes, try to assess the actual value of the chosen car with the help of a trusted mechanic. Alternatively, you can also refer to online websites to know about the trade-in value of the cars you are keen on.
On the whole, stay firm while negotiating, and getting the vehicle at your desirable price should not be too difficult.