Are you planning on investing in the Naples real estate market? Or wondering if purchasing a property in Naples is a good investment? Although it's hard to make predictive statements, it's possible to picture what we expect to see in the market using data and trends.
We've looked into statistics and trends and come up with predictions for the market in 2021. Naples, a small beach town in southwestern Florida is among the top-notch long-term real estate investment destinations for savvy real estate investors.
Before purchasing an investment property in this beautiful city, you'll need to be adequately informed about the Naples real estate market, as well as future predictions.
Current Naples Real Estate Market Forecast for 2021
1. Demand Will Continuously Top Supply
Presently, property demand is more than supply, and there are many reasons for this occurrence. Firstly, Millennials are joining the real estate market for the first time and will want to utilize low-interest rates after saving for a down payment.
Furthermore, existing homeowners will not want to sell quickly, knowing that there will be tough competition from fellow buyers. Lastly, the gap between supply and demand resulting from pandemic-related supply chain issues has brought about a shortage of new construction homes.
2. Property Prices Will Continue to Increase
There will be increased property prices and rents as a result of low-interest rates and high demand. Freddie Mac predicted that in 2021, home prices will rise by 6.6 percent across the country.
As the market adjusts to post-pandemic life, more Millennials will join the Naples real estate market, and interest rates will stay affordable. This will contribute to a steady rise in prices.
3. People Will Keep Relocating to Florida
Florida is a famous sunny state, and the COVID-19 pandemic has made the state more attractive since people can permanently work from home. About 777 domestic migrants have moved into the state per day in the past 35 years.
Currently, that number is almost 1,000. Most new Florida residents are from northern states like New Jersey, Illinois, New York, Massachusetts, and Connecticut- looking for fairer weather. Also, Florida doesn't have an estate tax or state income tax. Before the year runs out, we expect more people to relocate to Florida, especially Naples.
4. Multifamily Real Estate Will be Extremely Lucrative
Although the single-family market has experienced much growth over the years, multifamily will be highly lucrative moving forward. In the post-pandemic economy, renters will gain more financial stability and seek to rent a property independently.
There's a prediction of a 6 percent increase in effective net rents as vacancy levels stay low. This makes it the best time to invest in multifamily real estate.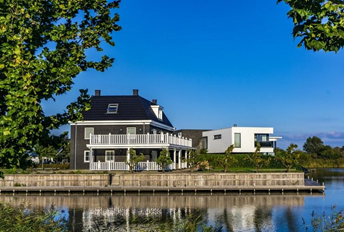 5. Interest Rates Will Stay Low
Florida is one of the states that has experienced a booming real estate market. This trend is across the country due to improved buyer's purchasing power based on meager interest rates.
The Federal Reserve reduced the interest rates because of the bad economic condition the COVID-19 pandemic caused. However, the Federal Reserve intends to maintain low-interest rates for the foreseeable future with improving economic conditions.
Thus, buyers will enjoy about 3 percent interest rates that will encourage them to purchase the property.
6. Popularity of New Construction Homes Will Increase
The post-pandemic experience will resolve labor and supply issues, and new home construction will increase to meet demand. According to Freddie Mac, due to the financial crisis in 2008, the construction industry has been underbuilding in the last decade.
That resulted in a housing crisis. Now, the housing market is over 4 million units short. Although the gap will take some time to close, developers are making moves to improve it.
7. Vacation Rentals Will Become More Popular
People are excited about traveling to experience a change of environment because they're tired of staying at home. Thus, vacation rentals will be in high demand. In the U. S., vacation rental revenue is predicted to surpass $88 billion by 2023- exceeding 2019 global revenue.
Instead of urban locations, young people are more likely to rent vacation homes since they search for idyllic and scenic spots for a getaway.
8. Rapid Growth in Areas Across the State
It's often tough to discuss Florida's real estate market without dividing it into separate areas since it's a large state. For example, rural areas in central Florida will have a distinct market type from populated areas in South Florida.
It's best to consult with a local realtor when differentiating the communities since they have an in-depth knowledge of the market. There are various real estate investment opportunities in Naples's real estate market.
When searching for top-notch real estate investments in Naples, focus on neighborhoods with employment growth and relatively high population density.
Naples has 11 neighborhoods, with Port Royal being the most expensive with a median listing price of $8 million, while Sun Terrace is the most affordable. Luxury properties are in greater demand than single-family homes despite being more expensive. To stay updated on Naples's real estate news, click here.
Conclusion
With its growing and affordable markets, Florida is an excellent place for real estate investments. Naples's zero estate taxes, beautiful beaches, warm climate, and lower-income and property taxes have earned it a spot among the top appealing locations to live in Florida.
The Naples real estate market has been highly resilient to the effect of the COVID-19 pandemic. Using the latest trends and statistics, we've discussed the Naples, Florida real estate market predictions for 2021.
Some of these predictions include rapid growth in areas across the state, an increase in new construction homes' popularity, a continual rise in property prices, and the boom in multifamily real estate.
Considering the predictions in the real estate market for 2021 and the market's dynamic nature, buying or selling real estate is one of the most important investments to make. It's also vital to choose a real estate professional in Naples to help you buy and sell high-end, luxury real estate.