Luxury travel is a rapidly growing industry, and the year 2023 is sure to bring many exciting new trends. Whether you're looking to experience the great outdoors in style or just want to escape the hustle and bustle of everyday life, there are plenty of opportunities to enjoy the best that nature has to offer. From scenic destinations to luxurious accommodations and unforgettable activities, here's a guide to help you make the most of your next luxury nature trip.
The couple relaxes on the beach and enjoys the beautiful sea on the tropical island. Summer beach vacation concept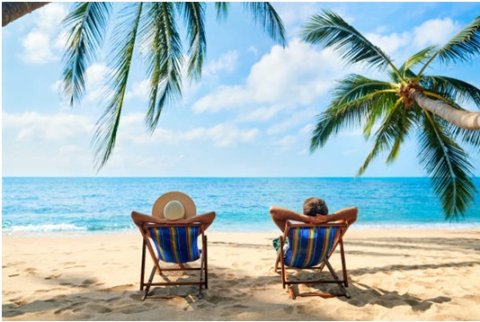 Overview of Luxury Travel Trends
Luxury travel is all about providing an experience that is both luxurious and unforgettable. The trends In 2023, travel trends are shifting towards sustainable and eco-friendly travel.
Destinations that offer unique natural landscapes, wildlife, and cultural experiences will be more sought after. Additionally, more travelers are seeking experiences that offer a sense of adventure, cultural immersion, and a connection with nature.
Common Destinations for Luxury Travel
The world is full of breathtaking destinations perfect for experiencing luxury nature travel. Some of the most popular destinations for luxury travel in 2023 include:
Africa: From the savannas of Tanzania to the forests of Rwanda, Africa is full of opportunities to experience the great outdoors in style. And an African safari is the ultimate luxury travel experience. Countries such as South Africa, Botswana, and Tanzania offer some of the best wildlife viewings on the continent. In contrast, countries like Morocco and Egypt offer a blend of luxury and history.
South America: From the Amazon Rainforest to the Andes Mountains, South America is a treasure trove of nature-focused destinations. Brazil's Rio de Janeiro is a popular luxury travel destination. The city is home to some of the world's most beautiful beaches, vibrant culture, and nightlife. Patagonia, which spans Chile and Argentina, is a breathtaking destination for hiking and wildlife safaris.
North America: New York is a popular destination for luxury travel. The city is home to some of the world's finest restaurants, shopping, and cultural experiences. Aspen, Colorado, is a mecca for ski enthusiasts in the winter, while the beaches of Cabo San Lucas and the Caribbean beckon in the summer.
Asia: From the lush jungles of Thailand to the snow-capped peaks of the Himalayas, Asia is a popular destination for luxury nature travel. ​​Bali's stunning beaches and lush landscapes make it a top choice for adventure and relaxation. At the same time, the Maldives' overwater bungalows and turquoise waters are the epitome of luxury. Japan is also a popular destination, with Tokyo offering a unique blend of cutting-edge technology and ancient traditions.
Europe: Paris is a must-visit destination for luxury travelers. The City of Light offers everything from haute cuisine to world-class art museums, and the city's charming streets are perfect for strolling. On the other side of the continent, the Swiss Alps provide a stunning backdrop for winter sports, while the beaches of the Amalfi Coast and the Greek Islands offer sun-soaked relaxation in the summer.
Best Times to Go for Luxury Travel
The best time to experience luxury travel depends on the destination and your personal preferences. However, the peak travel season is typically between June and August, when the weather is warm, and the crowds are at their largest.
If you're looking for a more intimate and peaceful experience, consider traveling during the off-season, from November to May. But regardless of what time of the year, make the visa application process hassle-free by using Atlys and applying for visas online, no matter where you are.
Making the Best of What Nature Has to Offer
Nature has a way of captivating us with its beauty and power, providing an endless source of inspiration and wonder. So let's uncover the best of what nature has to offer, from unique outdoor activities to tips for planning the perfect nature-focused getaway.
A female African leopard (Panthera pardus pardus) is on a log searching for prey in the background, a safari vehicle. Wildlife shot Moremi wildlife reserve, Okavango Delta, Botswana.
Types of Nature-Focused Activities to Try
There are plenty of nature-focused activities to try, from hiking and camping to wildlife watching and kayaking. Some of the most popular activities to experience luxury nature travel include:
Hiking and Trekking: Whether you're scaling a mountain or wandering through a lush forest, hiking and trekking are fantastic ways to immerse yourself in nature.
Wildlife Viewing: From African safaris to whale-watching expeditions, wildlife viewing is a popular activity for nature-focused travelers.
Kayaking and Canoeing: Paddling through calm waters is a serene and peaceful way to experience nature up close.
Camping: There's nothing quite like sleeping under the stars and waking up to the sound of birdsong. From backcountry camping to glamping, there are plenty of ways to experience the great outdoors.
Scenic Drives: For those who prefer a more leisurely way to enjoy nature, scenic drives offer stunning views of natural landscapes and wildlife. From winding mountain roads to coastal highways, there are countless scenic routes to explore.
Tips for Luxury Nature Travel
Choose the right destination: Make sure to choose a destination that offers the type of nature-focused experiences you're looking for.
Book early: Book your trip early to ensure that you get the best possible accommodations and experiences.
Pack light: Pack only what you need, and consider bringing eco-friendly and sustainable products. 
Seek Out Local Guides: One way to truly connect with the natural environment and learn about the local culture is to hire a local guide. 
Disconnect from Technology: One of the benefits of luxury nature travel is the opportunity to disconnect from the stresses of everyday life and immerse yourself in the natural world.
Embrace the Outdoors: Luxury nature travel is all about embracing the great outdoors, so don't be afraid to get out and explore.
How to Choose the Right Nature-Focused Location
When choosing a nature-focused location, consider factors such as the local climate, the types of activities available, and the level of luxury offered by the accommodations.
Additionally, research the local culture and customs to ensure that your trip is safe and enjoyable.
The Most Luxurious Nature-Focused Travel Destinations
For those seeking a truly luxurious nature experience, there are several destinations sure to impress. From remote island getaways to historic hotels surrounded by lush gardens, these destinations offer a unique blend of natural beauty and luxurious comfort.
Bora Bora, French Polynesia: This idyllic island is surrounded by crystal-clear waters and offers the perfect combination of relaxation and adventure. Stay in one of the over-water bungalows and enjoy snorkeling, kayaking, and other water-based activities.
The Maldives: With its pristine beaches, crystal-clear waters, and abundant marine life, the Maldives is a true paradise for nature lovers. Stay in one of the luxurious overwater villas and experience the best of what the island has to offer.
Serengeti National Park, Tanzania: This stunning national park is home to some of the world's most magnificent wildlife, including lions, elephants, and cheetahs. Stay at the Four Seasons Safari Lodge for a truly unforgettable experience.
Amalfi Coast, Italy: This stunning coastal region is known for its picturesque towns, breathtaking scenery, and luxurious hotels. Stay at the Belmond Hotel Caruso, which offers panoramic views of the coast and is surrounded by lush gardens and olive groves. 
Nihi Sumba Island, Indonesia: This remote island is a true escape from the hustle and bustle of modern life. Stay at the eco-friendly Nihi Sumba Island hotel and experience the island's pristine beaches, lush jungle, and abundant wildlife.
Benefits of Nature-Focused Destinations
Nature-focused destinations offer a variety of benefits, including:
Stress relief: Spending time in nature has been shown to reduce stress and improve mental well-being.
Physical activity: Nature-focused activities, such as hiking and kayaking, offer the opportunity to get outside and get active.
Cultural immersion: Visiting nature-focused destinations often provides the opportunity to learn about and experience local cultures and customs.
Recommended Nature Hotels
For a truly luxurious nature experience, consider staying at one of these recommended nature hotels:
Four Seasons Safari Lodge, Serengeti: This luxurious lodge offers panoramic views of the Serengeti and is a great base for exploring the surrounding wildlife.
Belmond Hotel Caruso, Ravello: This historic hotel offers breathtaking views of the Amalfi Coast and is surrounded by lush gardens and olive groves.
Nihi Sumba Island, Indonesia: This eco-friendly hotel is located on a remote island and offers the opportunity to experience nature in its purest form.
The Oberoi Vanyavilas, India: Located on the edge of the Ranthambore Tiger Reserve in Rajasthan, India, this luxurious hotel offers an unparalleled wildlife experience.
Post Ranch Inn, California, USA: The hotel's award-winning architecture is designed to blend in with the rugged coastline and redwood forests, offering guests a truly unique and immersive nature experience.
A woman rests after a safari in a luxury tent during sunset camping in the African savannah of Serengeti National Park, Tanzania.
Luxury nature travel is a growing travel trend in 2023, offering travelers the opportunity to escape the hustle and bustle of everyday life and experience the best that nature has to offer.
From breathtaking destinations to unforgettable activities and luxurious accommodations, there's something for everyone. So why not start making travel plans for your next luxury nature trip today?