Have you ever been in a situation where you forgot someone's birthday or just didn't make it be there on time? Or maybe you simply didn't know someone had a birthday and you found out about it the very next day? I know I have been in situations like these. I don't recall forgetting about someone's birthday but I remember a few moments when I found about someone's birthday and it was already too late. I remember how awkward those situations were. I felt both embarrassed and stupid. I didn't know what to say and usually, it was pathetic. I thought I could post some happy belated birthday quotes for everyone who is or maybe one day in a situation I have been. I hope you find this useful!
We are so much busy in our daily life that we sometimes forget our dearest ones who are with us in our bad or good times with us. Moreover, you even forget to wish for their birthday. During this time, you shouldn't make things more messy if you had made a mistake first accept that and than apologize sincerely without giving more excuses. You can arrange a small outing ( may be lunch or dinner) with your friends and family or with him/her alone a and wish happy belated birthday wisely. If you don't have the time or still far away from your dearest, send him/her happy belated birthday wishes. This will give a positive outcome towards your relation with that person.
What will you see in this article?
A squad full of monkeys was supposed to deliver this card on time but… Well, I shouldn't have trusted the guy who sold them to me… Happy Birthday!
I was going to come by and wish you Happy Birthday but I thought that would be just boring so here I am, today. Happy Birthday!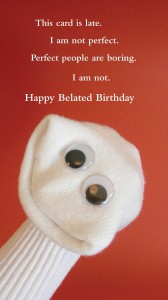 Would you believe if I told you that my dog ate the card I had for you? Well, I wouldn't either… Happy Birthday!
This greeting is either very late or super early. Either way, Happy Birthday!

You have so many friends that I couldn't get to you. Finally, it's my turn to say Happy Birthday!

What did you get for your birthday? I mean besides this card. Happy Birthday!

I'm sure you didn't expect me on time. And you know I'd hate to disappoint you! Belated Happy Birthday!

Before you say anything – these late wishes are time sensitive so watch your mouth! Happy Birthday!
I couldn't decide what to buy and they locked me in the store! I had to wait till the morning to get out. Coming to you was the first thing I did. Happy Belated Birthday!

I knew sending an owl with a birthday card could be a bad idea… Happy Birthday!

The message never changes, but the words do. Happy Birthday!
I decided to reach out to you today so you have one extra day when people wish you all the best. Belated Happy Birthday!

I didn't call yesterday so today I can give you one more day of feeling special. Happy Birthday!

I'm late for your birthday wishes, but my intentions and emotions don't stale. Happy Birthday!
I am deeply sorry for forgeting your birthday. Happy Birthday!

Man, time goes by way too fast. I am so sorry, Happy Birthday!

Happy Belated Birthday! You thought I forgot? I got you!
I am sure you had plenty of wishes on your birthday so I thought I could give you some extra day for you to enjoy them!

Sorry these birthday wishes are time-challenged. They're from me… Happy Birthday!

Could you have read my birthday message if I had sent it right on time? But now I'm pretty sure you have. Belated Birthday!

I wish you'd say something about your birthday. I hope you had a wonderful time. Happy Birthday!
The greeting may be stale, but the sentiments are fairly fresh. Belated Birthday!

Friends are friends forever, which is how long it took this card to get to you… Happy Birthday!

My pen ran out of ink and my mind was out of "think". Happy Belated Birthday!