flower lamp is a great way to decorate your home and make it look more pleasant. They can be a significant addition to your furniture collection. A flower lamp can be placed in your bedroom, hall, and study table. There are wide varieties of flower lamps available in the market, and you can select them according to your needs.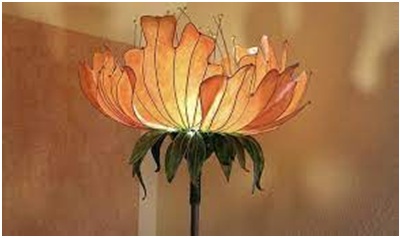 They come in different designs and sizes, and you can have fancy or simple ones too. Not only that, you need to select the correct size of Flower lamp and color tone that matches your room color. Here, we will show you several types of flower lamp designs that we think might be best for you.
Rose designed a flower lamp:
We all love roses because they are very adorable, and it feels good looking at them. This rose flower lamp is excellent; it shows off the lovely red light and makes your room blossom. On top of that, a rose flower lamp is best for bedroom decorations. You can place the lamp near your bed or at the places where you mostly sit.
Arum flower lamp:
These are very elegant-looking flower lamps. However, their size is usually more significant than the other flower lamps we have seen. The Arum lamp is taller than most flower lamps. This lamp is narrow at the bottom, but as it goes upwards, it blooms and opens like a flower. The Arum flower lamp usually comes in two colors, which are white and red. But, we prefer a white lamp, because it's soothing for the eyes. Arum flower lamp has a unique feature; its hues of lights change according to the environment and mood.
Bloom flower type lamp:
This flower lamp mostly comes in vibrant green, pink, or even white. It has an attractive design that will make you want to touch the light. It is usually closed, and when you turn it on, it opens into a blooming flower. The lamp doesn't take more than 40 watts, and you can place it near the study table. Its decent design would make you stare at it.
Hummingbird designed flower lamp:
 This lamp is a beautiful flower type, and at the base, it has turn-on and off functions. Its name is hummingbird because, in its design, the hummingbird is drinking the from the flower. It has a very appealing view, and when it turns on, it gives you forest-type vibes. Kids mostly love this flower lamp, as it looks pretty nature-friendly.
Lotus flower lamp:
Most Lotus flower lamps offer you more than just mood lighting; these lamps also have settings to adjust brightness according to your needs. This lamp can also be used while having dinner or in the bedroom. It usually comes in small size, so it takes less than 25-watt power, it is economical. Lotus is a beautiful flower, and most people love it because of its loveable appearance. The Lotus flower lamp has the same effect on the people, and its charming design attracts them to this beautiful lamp.
In conclusion, these are the best flower lamps we sought for you. You can use them in bedrooms, dining tables, and drawing rooms for decorating purposes.