Chicago, standing at the mouth of Lake Michigan, is an ultimate city of wonders due to its remarkable beauty. Seventy-two hours is a perfect time to explore the beauty and wonders of this spell casting city. Millions of people visit Chicago every year to explore this beautiful city.
Are you planning to take advantage of the breathtaking beauty of this city? Are you visiting Chicago for the first time and don't know where to start? If you are looking for a head start to consume your 72 hours the best way in Chicago, then you are at right place. We will give you the best Chicago itinerary to make your trip memorable.
Check Out More on USA Travel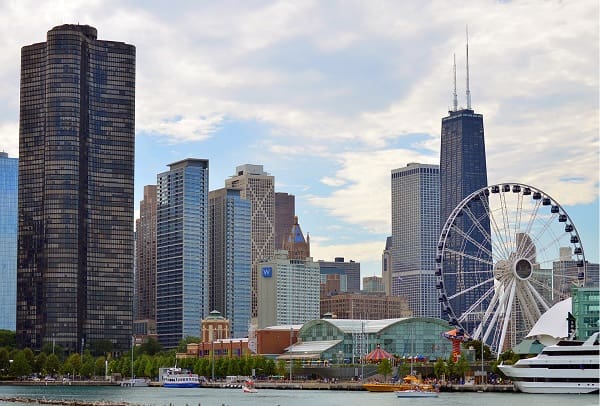 VISA problem
It is a dream of a lot of people to visit Chicago at least once in life due to its popularity. But when it comes to permitting VISAS US state is pretty notorious, as it is hard to get VISA. But if you belong to one of those countries that are a part of VWP, then there is no need to worry. All you have to do is to fill an online ESTA form. (ESTA is an electronic system that allows residents of VWP countries to tour the US). Once you have submitted your ESTA form, wait until you receive ESTA status. It will not take more than a few days. After receiving your ESTA, you are good to tour one of the best places in the world.
Find yourself a place to stay
Once you have reached Chicago, the first thing that you need to do is to find yourself a motel or a place to stay. Chicago is mostly filled with tourists, so it will be wise to pre-book your hotel room. Else you will face a lot of difficulties. Peninsula Chicago should be your first choice if you are looking for a luxury hotel. But if you do not wish to hit your bank then go for Holiday Jones or freehand Chicago.
Enjoy the view
After having a traditional breakfast at Lou Mitchell's, go to the Skydeck Chicago. There is no better way to explore the beauty of the city than to stand at the highest place to have a full view of it. There are two skyscrapers in Chicago; both of them have different reasons for popularity.
Willis Tower is famous for the glass Ledge that extends four feet beyond the balcony. Standing at the observation deck will allow you to have a full view of the enchanting beauty of the city. Glass balconies are the coolest thing about this tower. One needs a lot to nerve to step on them.
Michigan Avenue is also popular for 360 degrees Chicago. Take advantage of enclosed moving decks on the 94th floor. These decks will tilt you over Michigan Avenue to give to more thrill.
Millennium Park
Whether you are a fan of architectural beauty or cultural/modern artistic work, a visit to Millennium Park is a must. One or two hours will not be enough to explore its wonders, spare an entire day for taking advantage of the artistic work, concerts, food stalls, restaurants of Millennium Park. It is famous for its cloud gate, or bean-shaped structure that stands with pride in the entrance of this park. Concerts and musical shows are organized throughout the year. If you have a chance to attend one, then you must avail it.
River Cruise
Another way to live the beauty of Chicago to its fullest is by river cruise. Those who want to know more about the history and architecture of Chicago can't afford to miss this cruise. If you are not a fan of River cruise, then go for a walk along Riverwalk. One can enjoy various restaurants, food stalls, and shops on one's way.
Art Institutes and Museums
If you are a fan of artistic work and museums, then you must visit Chicago. Because it is well known for its great art shows and museums. The art institute of the museum must be your first stop. This museum is a blend of architectural, modern, and cultural designs. Whether you want to see heritage and contemporary art or unique paintings, this institute covers it all.
Adler Planetarium and Field Museum should also be on your visit list. Field Museum is a natural history museum which is famous for its gemstones collection. Adler Planetarium is a must-visit for space and science lovers. Do not forget to take advantage of the Shedd Aquarium as it is located near both above museums.
Magnificent Mile
Chicago has one of the best shopping malls. Do not forget to shop at the magnificent mile as it has a lot to offer.
Lakefront and beaches
Spend your last day in Chicago Lakefront. Lincoln Park is located near Lakefront. You can enjoy the zoo, museum, theatre, and conservatory at Lincoln Park.