Thinking of refreshing the look of your living room? It is always a good idea to spruce things up, especially when you've had to live inside the house, cooped up and shut from the outside world. With the fourth wave of COVID-19 looming over your head and giving you nightmares, it is the ideal time to give your living room a facelift. But, of course, if there's another pandemic-induced lockdown, you might have to spend a lot of time in this room.
When it comes to designing the living room, nobody can deny the importance of the sofa. It is one of the most important furniture pieces that will dominate the living room decor. Therefore, you must get it right. Selecting a sofa style means you are setting the mood for the room and defining its look. Whether you want a classic feel or a casual farmhouse feeling, a traditional living room, or one with a contemporary vibe, the right sofa style will help you realize your design dreams.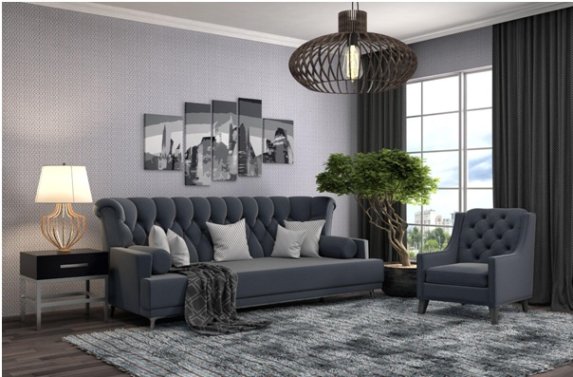 Besides considering your sense of style and lifestyle, you must consider your living room space. It would be a great idea to float away from the wall so the room appears more spacious, and you can easily roam around the room. You can also speak to an interior designer and head to a sofa showroom in Kolkata to place an order for custom sofas. Bespoke sofas can further define your space by adding a touch of unique design that is innately yours. Keep scrolling to learn more about how you can decorate your living room with a sofa.
First, Start by Selecting the Right Sofa Style
One of the biggest considerations is the sofa style. It will dominate the room's overall decor and create a welcoming environment. The sofa style will define the overall look and appeal of the space. You can choose from a wide range of styles, including minimalistic mid-century modern to traditional styles. You can be assured there's a style to cater to every unique style and taste. To create a timeless, elegant living room decor, you can go through sofa styles featuring graceful lines, visible legs, and wood detailing. Even leather sofas are great for a contemporary-looking living area. You can add a pop of color by opting for an upholstered sofa, and these are available in a range of fabrics and colors.
If you want to maximize the space in your living area, you can choose a sectional sofa. However, straight-lined, cushioned sofas are also in vogue, and they can give a modern vibe to your living area.
Once you have decided on the sofa style, you can move on to the following factors.
Second, Consider the Sofa Size
Selecting the sofa style isn't enough. You must consider the room's size and accordingly make your choice. The sofa must be the focal point, but it needs to leave enough space for other furniture and accessories, such as coffee tables, ottomans, etc.
So, before heading down to the showroom, measure the room and decide how much space you would want the sofa to take up. Then, you can easily make your decision.
Third, Focus on the Sofa Arrangement
Placing the sofa is another great feat that you must achieve perfection. The goal is to create a comfortable, cozy seating area where your guests can relax and have great conversations. If the living area is small and divided into the dining room, you can place an armless sofa so there's less bulk and the room appears spacious. You can place a divider to mark the clear boundary, or you can place a rug or carpet.
If you want to create symmetry, you can place two matching sofas in front of each other so friends and family can have memorable conversations while facing each other. The L-shaped sofas are a great addition to any space and can be placed in large areas. For example, you can place them against the wall or in front of a console table. Also, place a few coffee tables and ottomans to make the room appear cozier.
Fourth, don't Leave the Space Above the Sofa Empty
When you have finalized the sofa style and decided on the sofa arrangement, it is time to put some finishing touches so that the sofa is the focal point of the room. It would be best if you placed the sofa a bit away from the wall to get that space for decorating it. For example, you can place a vintage mirror or an interesting arrangement of pictures. The wall can be used to display vacation pictures, or you can install a glass cabinet and showcase souvenirs. It can even have wall art. However, don't overdo it because it will appear too cluttered. It would be best to let your living room breathe so that the focus is on the sofa and great conversations. After all, the sofa is the high end furniture in Kolkata that you want to stand out from the rest of the furnishings and accessories in the room.
Fifth, Put Some Cushions on the Sofa
For the final touch of elegance, you need to get matching or contrasting cushions from your sofa. It will make the sofa so much cozier and more comfortable. In addition, it will provide your guests with the right amount of comfort so they can relax and have a good time.
The Bottom Line
So, now, you have a clear idea about how to arrange the sofa in your living room. But, first, you must head to the best luxury furniture showroom in Kolkata to peruse the sofa collection. Don't forget to inquire if they have provisions for customizing sofas. Then, you can get the sofa of your dreams that cater to your style and decorate your home.