Can you imagine hosting an al fresco dinner on your private deck? Or can you envision you and your loved ones enjoying the sunset over a cocktail after a stressful day at work? Decks can be that space where you can relax, have fun, or spend time with people who matter.
Mataverde Decking can help you with your deck and siding needs. Whether you want wooden, concrete, fiberglass, Kebony, Kambara, cedar boards, or Garapa decking, they can do the job.
Before you decide to build a deck, consider first the right material you will use. Here are common choices and their respective advantages and disadvantages.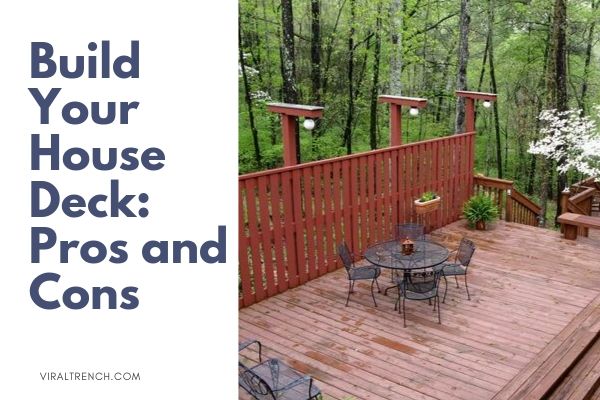 Pressure-Treated Wood Decks 
The good thing about this kind of decking material is that it's chemically treated so that it can withstand insects, mold, and rot. Apart from that, this is also the cheapest option, around $1.50 to $3/square foot.
Pressure-treated wood has a long list of advantages. It can also be bought easily. Because of these reasons, pressure-treated wood is the most popular deck material for most homeowners.
On the other hand, one of the disadvantages of using pressure-treated wood is its tendency to warp or crack over time. Before, chromate copper arsenate was used to treat pressure-treated wood. This was stopped because arsenate was suspected to be a potent carcinogen. Now, less toxic chemicals are used, making it safer to use for homes.
Tropical hardwood
One of the advantages of using tropical hardwood is its availability. You can find it everywhere. Even if you want tigerwood, cumaru, or ipe, you can have a stunning looking deck. Tropical hardwood is an excellent choice as decking material because it's durable, hard, and grainy. It's also naturally resistant to insects and rotting.
As for the disadvantages, just like cedar and redwood, tropical hardwood comes with a hefty price tag. On average, one square foot of this will cost you around $8 to $12. They are also quite dense, making it challenging to drill holes.
If not correctly handled, it would be challenging to apply finishes or stains to tropical hardwood. Your hardwood provider should use stains and finishes that are specially formulated for this material. Mataverde Decking can help you find perfectly stained and finished wood, so you don't have to worry about how well it will be stained.
Concrete
The good thing about concrete as decking material is that it's modern, chic, practical, and versatile. You can design it however you want, making it a right deck material choice. On top of that, it's easy to clean and maintain.
On the negative side, concrete has a lesser character compared to other deck materials. Also, when the sun is up, it can get scorching.
Redwood
Redwood is another great decking material, sharing some characteristics with cedarwood. It has a gorgeous color, lightweight, has a durable finish, and has natural tannins.
On the negative side, redwood is not easily accessible. If you live in the Eastern regions, you might find it challenging to find redwood. Also, it's costlier compared to cedarwood, with a price tag of around $7 to $9 per square foot. Apart from that, redwood, just like cedar, needs to be power washed every year. You also need to apply a coated finish to it every 3 or 4 years.
These are just a few decking materials you can choose from. If you want to explore more options, schedule a consultation with the friendly people at Mataverde Premium Decking and Siding Solutions.