We would like to inform that YOPmail is referred to as an interesting anonymous mail program which provides access to the users for communicating with other users without using their real-time email addresses.
YOPmail mail program can be used very easily. It is not required to follow the account creation process or setting up a new password for your account. Any user can access the website and create a username within a few minutes of time. They will be granted immediate access to the inbox using their appropriate username. Within Inbox, you can track all the communicated messages and for eight days the messages will be stored in the YOPmail's servers. You will be also allowed to delete the messages manually if you prefer for.
Users are provided with permissions to have discreet conversations with other users and not to worry in case if they even receive any sort of abuse messages to their inboxes. This could be a best and great mail program for those who prefer to have their communication restricted within their family members, and friends. Initially, you need to create good trust and rapport with other users. In private session, you can even share the discreet messages with your friends or loved one.
Must Read Why are you losing money without an email Signature?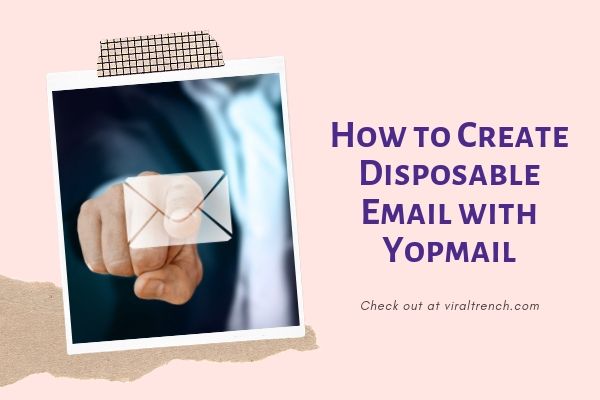 The value-added advantage of using this mail program is you can create an email account to use the services and products without using their real-time email address and subjecting it to phishing practices and spam email messages. Spam messages will be more common in the world and YOPmail is the best antidote or a solution to get rid of it.
We would say that there are so many good and valid reasons to make use of YOPmail mail program. The most important and interesting concept of this program is it has flaws with only minimum volume. The interested users who would like to utilize the YOPmail mail program are requested immediately to give a trial to check whether this program meets their expectations. All the users need to remember the important thing is that this mail service is utilized by other users as well.
Thus, you need to select a unique username for your mail inbox. In case, if your username is already selected by another user then you need to share the same inbox with that user for access. The mail program also provides the best feature of a unique username generator tool, which is used to generate a unique username for you. The service provided by the program is completely free and disposable so that anyone can check by creating a new account and see if it suits your requirements. The communication does not make you worry with no hassle way and no-nonsense.
Please find below the list of benefits and features of YOPmail mail program:
The program provides the administrative dashboards or consoles for their user accounts and granted full privilege over their accounts.
You can create multiple numbers of disposable mail addresses for a single account. The size of inbox and outbox messages which have plenty of scope and capacity.
This is very easy to operate the mail program. Your existing email accounts will not interfere by this program and you can also use it parallel if you prefer to.
This program is completely outsourced so that you do not have to use any special hardware or software on your computer.
It is very easy to manage and has the effects to use it for a very short term that means that the email address existence will be constrained to a short time.
The received emails can be easily deleted or moved to another folder to maintain privacy.
The mail program allows us to create a disposable email address for any sort of specific purpose and grants permission to customize your requirements for effective use without any risks.
The setup process is very fast and easy.
Your anonymity will be maintained properly.
The spam emails will be avoided automatically by the server and your Spam folder will be cleared.
Features
Message forwarding – Users are provided access to forward any messages to other YOPmail user accounts.
YOPchat – YOPmail allows users to chat with new friends to get to know them better.
Easy access widgets – All the inbox notifications are granted access to view.
Email address generator – It is used to generate a unique username or disposable email address.
YOPmail email addresses creation process
Most of the people are curious to know how to follow the creation process to sign-up for a YOPmail account. No, there is no set of sign-up process defined. Without creating a YOPmail account, you can utilize all the features offered by the mail program to everyone. As we said earlier, no account needed.
The YOPmail email addresses are specially designed with no password protection, the email accounts which are throwaway, and temporary. It is not possible for you to create a YOPmail email account because each and every account were already created in the YOPmail's server and it is available for the public users. Even the official web page stats that No Registration and No Password.
For the YOPmail, there is no prior registration available to get the YOPmail email addresses. The YOPmail server already created all the temporary email account and you just need to add "@yopmail.com" to your preferred unique username, i.e flyhigh@yopmail.com is the user account you can use to access your YOPmail inbox.
There is no such huge process to follow for logging into your YOPmail user account. You need to access the YOPmail official website (http://www.yopmail.com/en/), on the home page, enter your unique username of YOPmail account and press the Check Inbox option. Since all the accounts are not password protected, you can easily access the inbox of your @yopmail.com email account.
After accessing your YOPmail account, you can see the Menu bar in your inbox.  Under the Menu bar, you have multiple options like composing a new email, delete emails, print the received message or forward the same to other users, etc.
Conclusion
We are happy to inform you that the above-provided information helps you to understand the YOPmail mail program and its importance. There are other email providers also that provide these types of services using a free mail server. You can refer to the benefits, features, sign-up process, and how to access the email account procedure for your reference.