A new family dog brings a lot of joy and fun to a household. But for every kiss and cuddle with your new four-legged friend, you might also expect to find a pair of chewed-up shoes or a surprise mess on the floor. Fortunately, you can prevent most problems by using proper training.
As part of the family, your kids can and should take part in the training to help the dog get used to obeying them. The process will also help children learn about and respect the dog. Letting kids help train the dog is easier if you keep a few essential principles in mind.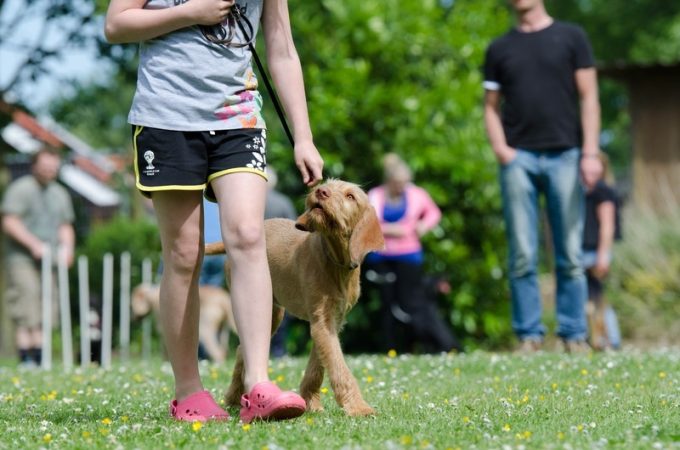 Consider your dog's breed
Some dog breeds are easier to train than others. If you don't have a dog yet, consider trying to find a reputable white lab breeder. Labrador Retrievers are some of the easiest dogs to train, and they're also well-known for being playful and getting along well with children.
Other breeds that take well to training include Collies, Poodles, and Miniature Schnauzers. Though these breeds are known for adapting best to new commands, most dogs will respond to training as long as it starts as early as possible and is consistent.
Teach your child positive reinforcement
Ensure that your child understands that they must train the dog with positive reinforcement like praise, petting, and food treats. How an owner trains a dog affects their relationship with the pet, so teach your children always to keep it gentle and cheerful.
Supervise without disrupting
You should supervise your child's dog-training sessions but resist taking over. You can guide your child in the best way to guide the dog through each lesson, but give them some leeway to learn how to interact with the dog.
 The training is part of them becoming familiar with the new pet. Try to let kids develop their relationship naturally without jumping in too much, but you should still supervise for the safety of both kid and canine.
 Letting your little ones learn dog behavior and how to respond is particularly helpful if a child has a slight fear of dogs. These children will soon see that there's nothing to fear and will enjoy discovering the fun of having a tail-wagging companion of their own.
Stick to simple commands
Your child might have big ambitions of teaching the dog to run an obstacle course and compete in dog shows, but make sure they start with basic commands.
Sit, stay, heel, down, and other simple commands are essential to keep the puppy on its best behavior. Slow and steady wins the race, and these commands are the best place for kids and adults to start their dog's training. More complicated orders can come later after the dog has the basics down.
Be consistent
When you train the dog by yourself, reinforce the things the dog has learned from your child. This reinforcement will help the dog pick up basic commands faster.
Your pet will also respond better if there's consistency in training rather than two different approaches.
Wrap up
Pets teach kids to develop empathy and learn responsibility. You can kill two birds with one stone by letting your child help train your dog to be on its best behavior.