Surroundings lashed with beautiful flowers and greenery has been into the good books of homemakers since ever. As the growing population doesn't allow us to have a proper space for gardening but our architectures are way too intelligent in combating every difficulty related to this. A creepy boring terrace can be converted into a lush green beautiful garden if you want your neighbors to skip a blink when they turn to your home.
A terrace garden can be created in any shape and design depending upon your lifestyle. Not only terrace but even the balconies can be planted with your favorite flowers and creepers as well. Whether you are relocating to some big city or shifting to a small apartment, calling good moving companies often reduce some part of the stress. But still, the concern of not having a garden creates a hassle in your mind every now and then if you are a constant mover. Well before you get depressed we have better ideas for you to prepare an easy garden where you can grow everything of your choice.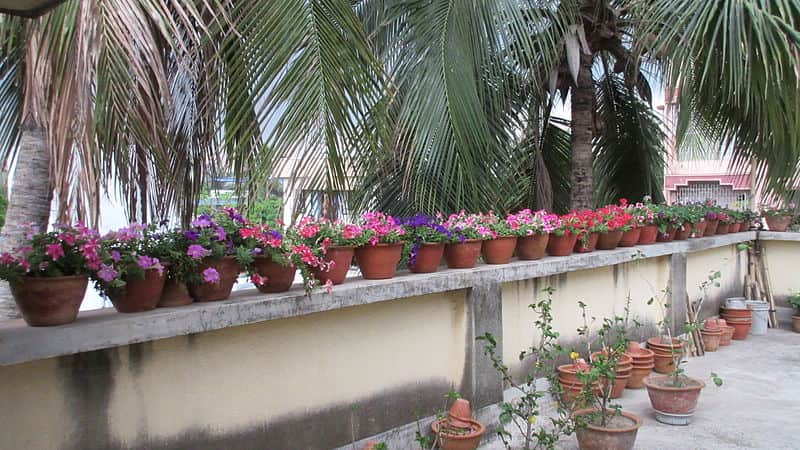 Check Out More on Gardening
Organic Gardens
This gardening is the most recent form of terrace gardening. Growing organic vegetables and fruits in your terrace garden, there can be no better use of your worn out terrace. But before you get into this practice plan wisely, for example, don't just throw the soil on one part of the terrace and start growing. It will waste most of your space, instead, you can use containers to plant vegetables because they are always easy to carry and replace. It saves your money, bricks, and space. No drainage system will be required for this type of gardening and moreover, the space will be dirt free.
Using various elements
Along with beautiful flowers and plants, terrace gardens should have a peaceful area to sit so that you can enjoy what you have created. Use different styles of chairs and sofas to make them look even more pleasing. Color the walls differently, vary the heights of your flowers and plants and use different stones for the flooring.
Raised terraces
Elevated terraces give your terrace a unique outlook. A slight raise in the garden may help you to view the entire area without getting on to your toes. Elevated gardens embossed with different types of flowers look more than beautiful.
Sunken terrace gardening
This is a garden below the ground level and its outer edge is raised. For such type of gardening use of sand and gravel should be made to form the base of the sunken garden. It is quite in trend these days.
Step farming
The terrace can be designed to give an impression of step farming. It forms the part of landscaping i.e. terrace is landscaped to form step raised platforms.
Using varieties of flowers
Varieties of flowers can be planted to give your terrace a new look each year. Flowers like spring flower bulbs, summer flower bulbs, Hardy perennials, Dwarf grasses, Annual flowers, and decorative grasses. This will give your terrace a new look altogether each year when you can plant the flowers of your choice.
With new lifestyles and development, terrace gardening is the best way to keep your passion for planting alive. Once created it doesn't require much of your time. You can just maintain it once a week and that'll be enough for your terrace garden to give an impressive appearance.