India is a nation full of glory and eminent history. India is known for its amazing temples, caves and beautiful heritage in the world. There is a number of things which are known to the general public and India and across the world.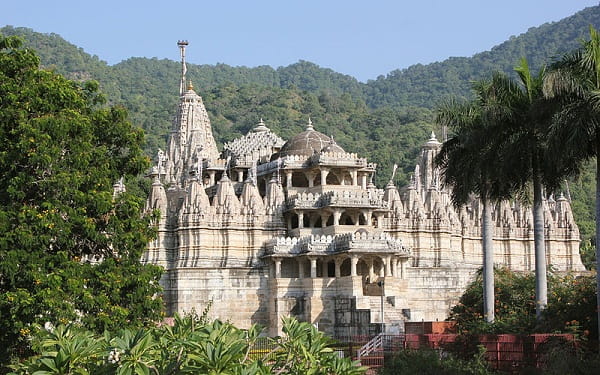 A beautiful view of Ranakpur Jain temple
Story of Ranakpur Jain temple
One of these special heritages is the Ranakpur Jain temple. This temple is famous for its ancient art and especially the 1500 pillars of this temple are a surprise to the whole world.
This temple is about 100 kilometers away from Udaipur in the Ranakpur village near the Sadri town of Pali district of Rajasthan. Ranakpur Jain temple is one of the five major pilgrimages of Jainism. Also, this temple is beautifully carved with ancient architecture.
Tourists have a great experience at the temple
The biggest feature of the Jain temple at Ranakpur is that it is made in 4,500 square meters with 1444 marble pillars, twenty-nine halls, eighty domes, and 400 columns. The gates of this temple are artistically designed. There are also four huge sculptures of Adinath, the first Tirthankar of the present half-cycle according to Jain cosmology. It is one of the most important and the biggest temple of Jain culture.
A beautiful picture from inside – Shown here the ancient art on pillars
This temple was built during the reign of Rana Kumbha in the 15th century. The place was named Ranakpur after the name of Rana Kumbha itself. There are thousands of pillars inside the temple which makes it wonderful from Inside. While standing along with these pillars the main idol of Adinath's can be viewed from anywhere which is the biggest specialty of this temple.
It is surrounded by a lush green environment which makes it more beautiful.
Known for it's the finest carving, thousands of people visit this temple every year from all around the world. The Jain temple has 76 small dome-like sanctuaries, four large prayer halls, and four large worship places. Once you visit there you will be definitely mesmerized with its beauty and arts. It will be once in a lifetime experience for you.
Predicting a future crisis in this temple, the makers have also built several cellars. Sacred idols of Adinath's can be prevented in these cellars. These cellars demonstrate the vision of the temple builders.