Hoverboards have been used as personal transport by many as it is comfortable and fun to ride. There are hundreds of hoverboard brands in the market that comes with different feature and specifications that determines the cost of a hoverboard. It is always advisable to check for better quality than looking for a lesser priced hoverboard. However, the hoverboards price plays a greater part while you plan to purchase.
Planning to buy a hoverboard and do not know where to start? Well knowing the price range of the hoverboards can be a  great starting point. Most hoverboards start from $180 and can be priced up to $1000. You might get them at cheaper prices too however, that does not guarantee any quality inspection and durability. A hoverboard should be built with safety features that the rider can completely trust to ride on it.
Let's check on some of the popular hoverboards and their price
Initially when hoverboards were introduced there were several cases reported of the batteries explosion causing danger to the rider. Nonetheless, this situation has changed as the most popular brands do a thorough quality check before they are sold in the market. So if you ever think about buying a hoverboard, refer to this website which gives you complete details.
VIVELINE HOVERBOARD
This hoverboard comes with colorful flashing lights on the wheels with a dimension of 6.2" which is ideal for kids and adults. It is greatly used by every outdoor sports enthusiast as it is comfortable and safe to ride even in dark places. The product is priced at $109.99 and has received 4.5 stars of rating.
CHO Electric Smart Self balancing scooter
The CHO electric scooter which weights around 19.75 pounds intake your ride fun without compromising on the safety. The product is recommended by many customers and is rated a with an average of 4 Stars.
The price of this product ranges from $104 to $ 139 based on its color variation, features and added specifications.
TechClic Electric Hoverboard
The TechClic Electric hoverboard comes with inbuilt speakers and LED lights, it comes in 13 colors and can travel up 3.5 miles in a single charge. This product has received 4.5 stars on an average and performs exceptionally well. The price of this hoverboard is $108 to $138 based on the color you choose.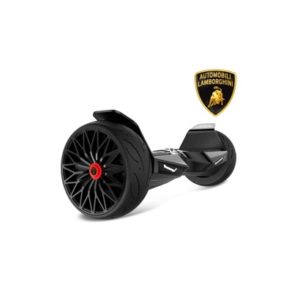 LAMBORGHINI is one of the most populous brands and is highly priced for its extensive feature. The hoverboard is priced at $368 which is designed with the latest technologies and bring the coolest specifications.
The cost of a hoverboard determines other additional features of the product. Do ensure to check for safety certificates before you purchase yours.