You can learn so much about a country and its people when you seek out what locals like to eat and sample some of their food. Local dishes, especially in Southeast Asian countries, can tell you so much about a nation's history, its geographical location, and even the climate in that area.
In the Malaysian state of Penang, the cuisine is bold and full-flavoured, seamlessly blending Malay, Chinese, Peranakan, and Indian influences for dishes that can only be described with superlatives. It's diverse, exciting, and wonderfully accessible. In fact, many Penang tour packages center around its universally lauded street food!
In this short guide, we'll share with you some of the must-try delicacies and specialties in this beautiful Malaysian state.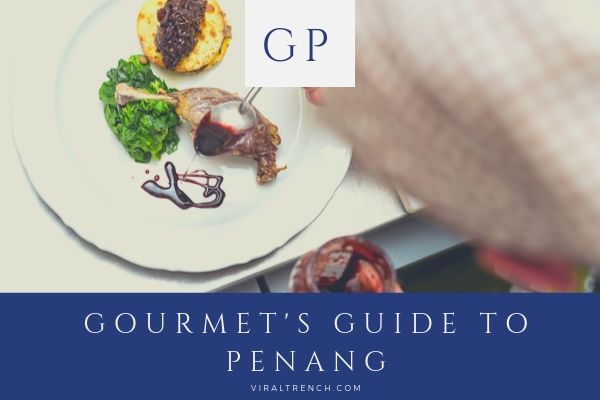 Char koay teow
This stir-fried noodle dish is considered a national favorite in both Malaysia and Singapore. Made with flat rice strips fried in pork lard over very high heat in a wok, the char koay teow often has toppings that include prawns, eggs, bean sprouts, cockles, Chinese sausage, and chives, among others. Some versions exclude the lard to cater to Muslim customers who do not partake of pork products, and so plain cooking oil is used instead.
The char koay teowis a ubiquitous meal that can be found all over Penang, but insiders agree that Siam Road Char Koay Teow is best-in-class in the state. Proof of its excellence is in the long queue that forms around the establishment during peak hours—you can expect to wait at least an hour for the good stuff. The 76-year-old uncle who runs the place personalizes each order according to the customer's preference, and that kind of special attention to detail is a steal at RM 6.50 a plate. If you'd like to skip the queue altogether, Tiger Char Koay Teow in Carnarvon serves a version that's just as well-regarded.
Penang asam laksa
Laksa is one of those dishes with a muddy origin story. What we do know is that it's a spicy noodle soup commonly attributed to Chinese immigrants, and it's incredibly delicious. Penang is known for the version called asamlaksa, which was ranked 7th on CNN Travel's list of the 50 most delicious foods in the world. This staple is made with tamarind, which lends a distinct sour flavour to the broth, but itis also seasoned with lemongrass, galangal, and chili. It is served with either thick or thin vermicelli and topped with flakes of poached fish.
The most well-known laksa in the stateis the one found at a hawker stall at the Air Itam Market, which was visited by Anthony Bourdain during a 2012 episode of his food and travel show No Reservations. They've been dishing out bowls of laksa since 1955—that's over 64 years of history!It's also relatively cheap at RM 4.50 or thereabouts per serving.  You will want seconds, trust us.
Nasi kandar
Popularised by Indian Muslim migrants, nasi kandaris a full meal on a single plate that starts with a bed of steamed rice. This is then topped with a myriad of available side dishes. The selection changes every day, but almost always includes curries, fried chicken, fried fish, seafood, prepared vegetables,  hardboiled eggs, and other odds and ends. Your plate is finished with generous splashes of extra curry sauce that seep down to the rice, imparting it with explosive flavors sure to knock out your taste buds.
Bourdain's favorite comes from a restaurant called Line Clear in George Town, a working-class cafeteria-style establishment open 24 hours that also serves a standout fish head curry, another must-try Penang dish. True enthusiasts, however, head to Nasi Kandar Beratur, a restaurant that truly lives up to its name—beratur means "queue up," and fans of the place really do, every single night when they open at 10 PM. Expect to wait 30 minutes before you can even get close enough to order, but don't worry—it'll be well worth it. A plate costs RM 10 to 14, maybe more, depending on your topping choices.
Nasi lemak
Malaysia's national dish is a humble one, but it is utterly phenomenal when done right—and do it right is how they do it in Penang. Nasi lemakmeans oily or fatty rice in Malay, but in the context of this dish, the definition is closer to rich, creamy, and luscious. The rice is soaked and steamed in coconut cream, and a serving of pandan leaves adds a unique fragrance to the dish. It is often accompanied by sambal, a spicy paste made with chili, garlic, ginger, shrimp paste, and lime juice, as well as a portion of ikan bilis or dried anchovies, peanuts, and a hard-boiled egg. A protein dish such as fried or curry chicken rounds out the meal.
The number-one nasi lemak in Penang can be found at Ali Nasi Lemak at the heart of George Town's financial district. Here, small servings of rice are topped with your choice of meat and liberal portions of samba before being wrapped into an easy-to-transport banana leaf package. Another standout is Projek Nasi Lemak, an establishment that gained notoriety for their butterfly pea flower dyed blue rice. Prices vary; Ali Nasi Lemak's packets of goodness cost less than RM 2 while Projek Nasi Lemak's set meals can be upwards of RM 8.
The easiest and most convenient way to get to Penang is by air since direct flights are available from Kuala Lumpur, Johor Bahru, and other major Malaysian cities. You can also fly directly here from Singapore, Hong Kong, Taipei, and other neighboring countries. Penang is also an ideal day-trip destination from Kuala Lumpur, with buses and trains departing regularly for the state at various stations in the city. Expect the journey to be 5+ hours long either way. Once there, getting to the food is easy – George Town is a very walkable city with an abundance of hawker centres and shop houses that serve Penang's best bites.