Who doesn't dream of living in a luxurious house that exudes elegance and style? Several places like Beverly Hills and Tampa are renowned for luxurious houses. The sheer mention of Tampa Bay conjures images of breathtaking waterfront properties lining the pristine coastline, tempting us with their luxury. That's enough evidence to corroborate why house prices in Tampa have increased by 4.2% compared to last year. It's hard not to feel envy as we admire the grandeur of these magnificent homes.
But here's the exciting part: achieving a high-end look for your residence doesn't have to drain your bank account. You can create a similar ambiance in your home with the proper planning, creativity, and inspiration. Here are six tips to give your house a luxurious makeover on a budget.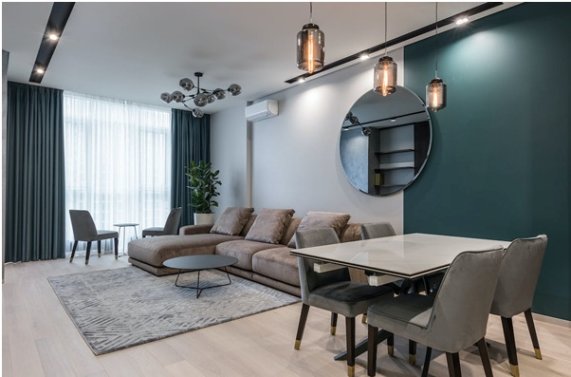 1. Get Rid of the Bathtub
Previously, bathtubs reigned as the icons of bathroom luxury. People would soak in them, surrounded by bubbles and scented candles, feeling like royalty. But times have changed. Bathtubs are now replaced with modern, sleek, spa-like showers that offer the perfect blend of functionality and indulgence.
Showers also take up less room compared to their bulky bathtub counterparts, allowing you to free up valuable square footage and make your bathroom appear more spacious. And this can be especially valuable in cities like Tampa, where the average size of houses is only 1660 square feet, and every inch of floor space counts.
Suppose you're considering a bathtub-to-shower conversion and seeking a reputable company to handle the project. In that case, we highly recommend Luxury Bath of Tampa Bay. With their exceptional track record and A+ BBB accreditation, they have proven their commitment to quality and customer satisfaction. Whether you want a modern, minimalist shower design or a luxurious spa-like retreat, their experts can bring your vision to life with the utmost precision and attention to detail.
2. Embrace the "Less is More" Philosophy
In modern luxury, "less is more" has become synonymous with elegance and style. Decluttering can also help reduce stress and save money on storage space. Statistics even suggest that it can cut off 40% of your housework.
Start by ruthlessly editing your possessions, letting go of items you no longer need. Embrace the minimalist mindset by focusing on quality over quantity, curating a collection of thoughtfully chosen pieces that reflect your desired style.
When it comes to organizing, invest in stylish storage solutions that blend seamlessly with your decor. Look for furniture with hidden compartments, sleek shelving units, and decorative baskets or bins that add aesthetic appeal and practicality. By giving every item a designated place, you maintain order and showcase your attention to detail and commitment to a luxurious lifestyle.
3.  Refresh Walls with Paint
A new layer of paint can do wonders in transforming a room. And it can even boost your home's market value by around $4,000.Opt for neutral colors with soothing undertones that instill a sense of luxury. Also, add an accent wall with a contrasting color or a bold wallpaper to add a hint of sophistication. This focal point adds a luxurious element and serves as an incredible backdrop for furniture and decor pieces, instantly elevating the overall aesthetic.
Some modern luxurious palettes to choose from are:
Mid-Century Modern: This palette is characterized by neutral colors, such as white, beige, and gray, with pops of bold color. Some popular accent colors for this palette include black, opal, navy blue, and emerald green.
Industrial: This palette is mainly characterized by its use of dark, moody colors, such as black, charcoal gray, and dark brown. The accent colors for this palette are copper, brass, or gold.
Scandinavian: This palette uses light, airy colors, such as white, light gray, and pastels. Accentuate this palette with navy blue, black, yellow, or orange.
Monochrome:Black, gray, and white—This palette never goes out of style. You can add sharp accents of gold or crimson to create a more sophisticated feel.
4. Create a Mix of Textures
High gloss finishes offer a sleek and polished look that instantly exudes luxury. Consider incorporating glossy elements in furniture piecesor accent details like molding or trim. A high gloss dining table or a lacquered media console can become focal points that catch the eye and give your space a contemporary edge.
Metallic accents bring a touch of shimmer and glamour to your space. Incorporate metallic elements through decorative objects, light fixtures, hardware, or even in the furniture itself. For example, a stunning brass chandelier or a set of silver-framed mirrors can significantly enhance the overall luxurious ambiance.
But the real magic happens when you mix and layer different textures. Consider combining smooth and polished surfaces with rougher or more tactile textures. For instance, pair a high gloss coffee table with a plush velvet sofa, or toss a textured area rug on a glossy hardwood floor.
5.  Upgrade Lighting
All the above tips would be useless if the lighting in your home is substandard. Decent lighting is the finishing touch that brings everything together, elevating your space to new heights of elegance and sophistication.
First and foremost is selecting fixtures that align with your desired aesthetic. Opt for fixtures that boast clean lines, sleek silhouettes, and modern designs. Consider pendant lights with geometric shapes, minimalist chandeliers with metallic accents, or wall sconces with bold and sculptural forms.
When selecting the light color for your home, aim for a warm and inviting ambiance. Choose lights in the 2500K to 3500K spectrum.
6. Add Smart Plugs
Smart plugs are nifty devices that can turn ordinary appliances into smart devices. A simple plug-and-play setup allows you to remotely control and automate your devices using a smartphone app or voice commands.
Imagine turning on your coffee maker from the comfort of your bed so that a fresh cup of Americano awaits you as soon as you step into the kitchen. Or picture coming home to a cozy, well-lit living room because you scheduled your smart plug to turn on the lamps before you arrived.
They're affordable, easy to use, and bring a touch of futuristic magic to your home without investing in expensive smart devices.
Conclusion
Giving your house a luxurious makeover doesn't have to drain your wallet. With the right mindset, planning, and these six tips, you can transform your home into a haven of elegance and style. Embrace creativity, pay attention to details, and focus on creating a space that reflects your unique style.