Some people don't care what hotel they stay in – they say it's just a base for their vacation and it doesn't matter. Other people, however, feel their hotel is actually a big part of their vacation, and when you're in Orlando, that's how it should be; the hotels there are fun and cool and definitely make a difference in what you do and how much fun you can have. So if you're looking for a cool hotel near to the thrills of the Disney parks, here is a great list that will help you make the right choice.
Source: westgateresort.com
1. Westgate Resorts
Westgate Resorts are located across Florida.
Westgate has resorts located across Florida in areas such as Orlando, Cocoa Beach, and elsewhere. So no matter why you are visiting Florida or what you want to do when you get there, you'll find you can stay in a fabulous Westgate Resort. Some of the hotels have their own waterparks, and all are friendly, welcoming places to stay, with restaurants, spas, pools, and well-appointed, comfortable rooms. You can even upgrade and stay in a suite with its own kitchen and living areas, really giving yourself that honest home from home feeling. When you want a resort in Florida that ticks all the boxes, you can't go wrong with Westgate.
Source: Instagram, posted on April 27, 2022, FS Palm Beach'sofficial profile.
2. Four Seasons Resort Palm Beach
Walk to the beach from the hotel.
If you want to enjoy a beach-front location on your Florida trip, the Four Seasons Resort Palm Beach can give that to you. Located in an enviable spot on Palm Beach Island, you can walk directly from the hotel to the beach without breaking your stride. This is classic luxury accommodation, and you'll feel as though you're being treated at all times. The staff at the Four Seasons Palm Beach are there for you, and nothing you ask for will be too much trouble. You must book a table at the exceptional onsite restaurant, and don't forget the gorgeous spa. Like sports? You can play them here, and water sports are a particular specialty, including kayaking, surfing, and paddle boarding. You can even hire a catamaran. From the main pool, you'll have unbroken views across the Atlantic Ocean.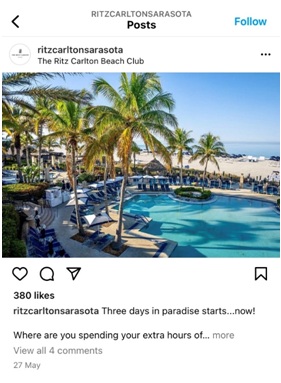 Source: Instagram, posted on May 27, 2022, Ritz Carlton Sarasota'sofficial profile.
3. The Ritz-Carlton Sarasota 
Enjoy the private beach area.
Florida's Gulf Coast makes for an ideal vacation spot. It's chilled and quiet and a far cry from where most people head for their Florida vacation – Orlando and the surrounding areas. Here you can find peace and tranquility and make the most of your time away from home, especially when you book a room at The Ritz-Carlton Sarasota. The resort is ideally located so that guests can enjoy everything that this area has to offer, including the stunning white sandy beaches and crystal clear waters. Yet, although the beach is often the main reason for heading to the Gulf, that's not the only reason to choose the Ritz-Carlton. When you stay here, you're close to the center of Sarasota, a boutique, artsy town filled with plenty of culture to enjoy – there are 40 art galleries, for example, and the architecture is beautiful. At the hotel, you'll find a great restaurant and a spa, and there are beach parties every night at the hotel's private stretch of coastline.
Source: Instagram, posted on May 20, 2022, South Seas Resort'sofficial profile.
4. South Seas Island Resort
 Take part in a yoga or painting class.
If you're looking for something unique and something that feels as though it's just for you, the South Seas Island Resort is a great option. This is a private spot, giving guests the peace and quiet they crave in opulent and special surroundings. The resort has almost three miles of beach all to itself, so you can truly relax knowing that you are being catered for. Plus, there is accommodation for every need and every budget; you can even hire an entire private home if you choose to. Of course, you'll still get all the amenities of the resort no matter what you choose when it comes to where you'll be staying. If you love swimming, this is the place to be; there are 20 pools ranging in size and location across the resort, so there is sure to be one near your accommodation. There are also many relaxing classes, such as yoga or painting.
Source: Instagram, posted on May 17, 2022, Little Palm Island'sofficial profile.
5. Little Palm Island
An entire private island.
Perhaps not to everyone's budget, but for those who can and for whom privacy is a must-have, it doesn't get much more private than an entire island just for you and the other guests at the resort. That's what you have when you choose to stay at Little Palm Island. This is what you get when you imagine an island paradise, and if you want something special that you'll remember forever, Little Palm Island has to at least be considered. You can only get there by seaplane or boat, and many celebrities have stayed there over the years because it's so private. You can enjoy your vacation in any way you want to, whether that's having a special champagne breakfast on the beach, going snorkeling right from your doorstep (or almost, anyway), or walking through a tropical landscape of six acres.
Source: Instagram, posted on March 9, 2020, Hilton Marco'sofficial profile.
6. Hilton Marco Island Beach Resort & Spa
Out of the way and gorgeous.
The Hilton Marco Island Beach Resort & Spa recently underwent a staggering $40 million upgrade, so you are safe to assume that it is absolutely perfect – if you want the best in the area, make sure you check this resort out. It offers a gorgeous outdoor pool and a spectacular spa with all the latest treatments available to guests. Yet what draws the crowds (although you won't notice them because it's such a large site) is the enviable beach-front location. The hardest thing you'll have to do when you're on vacation here is to decide whether it's a beach day or a pool day. How about you do a little of each? Marco Island is a lesser-known spot, but that makes it even more special because you'll feel part of a privileged elite – it's located off Florida's southwest coast, a little south of Naples, and it's the kind of sleepy, quiet place that many people dream of when it comes to a real vacation. While you're there, why not try something like jet-skiing while the kids are in the specially designed activity club? Or perhaps you would want to join in with one of the many organized trips to the local sights.
Source: Instagram, posted on June 4, 2022, Reefhouse Key Largo's official profile.
7. Reefhouse Key Largo
Eat at Gus' Grille, one of the best restaurants around.
If you love the beach, you'll certainly love Reefhouse Key Largo resort because it has 17 acres of gorgeous white sand for you to sink your feet into. It's a beautiful spot and one that will ensure you feel as happy and relaxed as possible. You can spend hours by the hotel's pool or perhaps head out to the beach for some quiet time. You could choose to go snorkeling through the reefs for which the resort is named, or perhaps you'll try scuba diving – the onsite dive shop offers gear and training. Or perhaps you're a foodie. In that case, you won't want to miss out on the hotel's wonderful restaurant, Gus' Grille, famed for being one of the best restaurants in the area. Unwind in Breezer's Tiki Bar with a tropical cocktail and listen to the live music that often plays there. Plus, you must make time to indulge at the By The Bay Spa. All in all, if you're looking for luxury and beauty and you want a vacation to remember, Reefhouse Key Largo is an excellent option.
Source: Instagram, posted on June 9, 2022, The Reach Resort's official profile.
8. The Reach Waldorf Astoria Resort
Enjoy Key West's only natural beach.
Key West is a fascinating place to stay with so much history and so many things to do that you will never get bored. Of course, if you're going to Key West, you'll want a fabulous resort to stay in to make your vacation as good as it can possibly be – that's where The Reach Resort comes in. Part of the Waldorf Astoria group, The Reach offers something not many other hotels can; a natural sandy beach. That's because it's located on Key West's only natural beach, and that makes it very special indeed. The hotel itself is nestled within a stunning landscaped garden, and there are amazing views wherever you look, including out to sea. The huge swimming pool will take care of all your relaxation needs, but if you want some more, there is a great onsite spa. For food, you can't beat Spencer's By The Sea – as you might imagine, the food and views pair perfectly together.