If you happen to be interested in the fashion trend and you've been an avid user of Instagram, Pinterest, or TikTok over the recent year, you have surely heard of the light academia and dark academia aesthetics. In simple words, these are basically two sides of the same fashion core inspired by the academic realm, but while one is a softer style with a light color palette, the other one emphasizes bolder hues such as black, navy, and burgundy, and sticks to more tailored, sophisticated silhouettes. Today, we'll discuss both of these aesthetics, as well as how you can achieve them in your looks.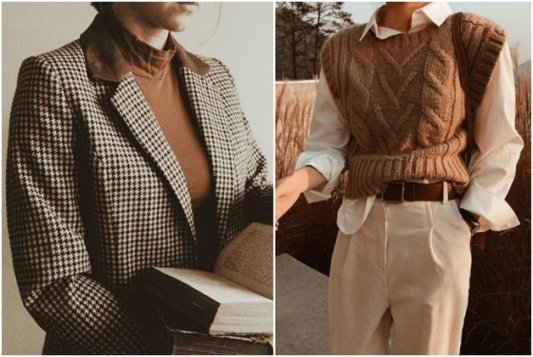 Light Academia
As previously mentioned, light academia is a fashion core that represents a softer, more feminine style that is usually inspired by vintage clothing and old pieces. If you want to achieve such a look, some of the must-have items that you should definitely have in your closet include blouses, pleated skirts, cable knit sweaters, knit Irish cardigans, and tweed jackets, all of those in light colors and dainty designs. As per accessories, they are usually small and elegant, that add a touch of sophistication to the outfit without drawing excessive attention to themselves. Pearls, small earrings, and thin bracelets can make a beautiful final touch of any light academia look.
Dark Academia
The Dark Academia fashion core is the complete opposite of the light one, as the name suggests, and is usually getting more popular during the autumn and winter months, since it perfectly matches the dark and gloomy weather. Instead of flowy blouses and lightweight dresses, this aesthetic focuses on deeper, darker hues like all shades of gray, brown, black, navy, emerald, and burgundy. Additionally, those who want to create looks that would match the aesthetic should stick to more structured pieces such as blazers, trousers, or skirts with sharp lines and a tailored design. Sometimes the same garments can fit both of these aesthetics, for example an Irish cardigan in a white or beige color as these you can visit here will make a wonderful addition to a Light Academia look, while one in a deeper hue will definitely find its place in a Dark Academia closet.
Outfit Ideas
Not that we've covered the basics of these fashion cores, let's take a look at how you can wear them in your everyday life. For those early September days when the weather is still nice and sunny, but you're already feeling the autumnal atmosphere, wear a vintage-inspired blouse with a short pleated skirt and combine the look with a thin trench or Irish cardigan on top. This ensemble will allow you to stay cool and comfortable while taking a long walk in a colorful park. If you're looking for a formal outfit for the first day of school, start by combining a classic crisp white button-up shirt with a pair of tailored wool pants and a sturdy blazer; complete the look with some Oxford shoes and a black leather bag and you're good to go. Finally, for those cold days when the last thing you want to do is to leave your bed, wear a pair of straight leg denim jeans, a cable-knit Aran sweater, and a wool overcoat on top; accessories like hoop earrings, leather ankle boots, and a blanket scarf will be of great help while you'll be on your way to work.