Umbria is a magnificent Italian tourist spot. This region co-exists with Lazio, Tuscany and Le Marche. It is literary called the green heart of Italy. Vast blue canopy overhead, conventional medieval downtowns, hilly areas and deep forests make Umbria a showpiece to beckon visitors from corners of Europe and Asia. Besides, mouth watering regional cuisines, and wines are aids for visitors to collect energy to wipe out stress due to long air trip. Perugia, considered to be the capital of Umbria, is also scenic and beautiful. There are more attractions hidden in Umbria. Local living will help you by providing holiday home accommodation for your next trip to Umbria.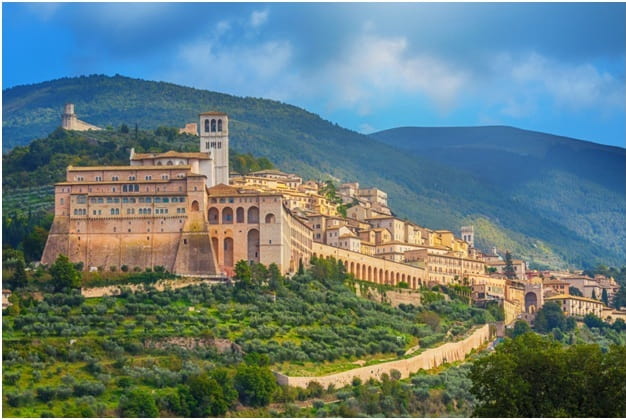 Perugia
Perugia is not a small downtown. It is the capital city with superb environment for you to stay on vacation. It is also the city with a cluster of historical monuments and top buildings. Etruscan and Roman emperors were brandishing rapiers to hold sway in vast Perugia. Many historical monuments and heritage buildings determine the dominance of Roman rulers in Italy. Galleria Nazionale dell'Umbria and Collegio del Cambio and San PIetro must not be excluded by travelers during the trip to Perugia
Umbria –Popular for Food and Wine
Umbria entices foreigners who are entertained with wine and food. During the fall, the beautiful Umbria becomes resourceful and gorgeous. The tranquil and cool ambiance in the backcountry must be classic to young lovers. Local folks are seen being busy to hunt truffle, cultivate crops like mushrooms. Local street osteria and trattorias( both small kiosks/restaurants ) are jam packed by visitors to have delicious dishes. When Tuscany is known for nocturnal fun and expeditions to please travelers, people confirm their eagerness to reach Umbria for having wonderful tastes and flavors of food. Dynamic hillocks, trails, and remote villages with grass covered land in Umbria crate a scenic background. After the hardships, when travelers decide to have shelter in any of the best hotels, they don't forget to place orders for Gubbio Pizza Cresciuta, and aka Crescia dishes which enable them to discover Italy in a new way.
Visit Umbria during Fall Season
Umbria is re-decorated when it is time for harvesting. Go to Strada del Sagrantino, Montefalco and Bevagna. The beauty of nature is awesome. Wine breweries in Cantina Scacciadiavoli and Arnaldo Caprai offer healthy and tasty Montefalco Rosso. Sagrantino is another brand which vinters don't hide it. These are popular wines in Umbria. Extensive vineyard fields in Umbria produce Orvieto wine to let you enjoy festivals in autumn.
Adventure in Umbria
It is great to explore in Umbria. From Florence, the road trip is adventurous. Reach Umbria driving your cabriolet. At the same time, visit Tuscany too. Both places have a touch of beauty. Lake Trasimeno, Chiusi, and glossy Perugia are destinations for young foreign travelers. Well by train, it takes just 2 hours to arrive at the hill station of Perugia from Florence. Umbria is very rich and affluent in water. Nestore Velino and Pagila water courses pass through Nera. See splendid Marmore Falls. Meanwhile, many tourists plan to visit Assisi to watch the tomb of Saint Francis who was a renowned patron saint in Italy. Assisi is now a pilgrimage center.
Spoleto- Superb Hill Town in Umbria
Spoleto is an icon to preserve the medieval aesthetic elegance and natural panorama. The sky kissing forts, palaces, and vintage establishments must inspire students to recollect the history which never fades away. Obviously, visitors like to rush towards Ponte Delle Torri which is the main attractive hub to them.
Finally, Search for the online guide and research materials to learn about Umbria. The tourism industry in Umbria expands gradually. A million travelers from Europe and Asia spend a vacation in Umbria in Fall to have goblets of cool natural wine and palatable dishes as well.