PrimeXBT is an award-winning Bitcoin trading platform offering CFDs on crypto, forex, stock indices, metals, commodities, and more all under one roof. That statement alone screams of convenience given that traders have to look no further than one platform for traditional assets, digital assets, and more.
The company's client-focused approach is at the center of everything they do, which is why convenience is also always a primary factor. Other lists out there have focused on PrimeXBT's most profitable tools, but what about the features the platform offers that are less about capital, and more about convenience? Let us take a deeper look.
Built In Technical Analysis Tools And Charting Software
A hallmark of a profitable trader is that they almost always have a chart open on their computer screen. Some even set up multiple monitors – which PrimeXBT supports – to have several charts open at once to watch various assets or indicators all at a glance.
Another reason for having multiple monitors set up is due to having to juggle the trading platform to manage positions, and the technical analysis software separately. But because PrimeXBT offers these tools directly built into the account dashboard itself, there is no need to ever leave the platform, or have to juggle multiple monitors or screens to find success.
There also isn't a need to pay extra fees to access such tools, as PrimeXBT offers technical analysis charting software from industry standard TradingView for entirely free. Convenience isn't as convenient when there is a cost involved, so the company has made this available to all users at no additional cost.
Set It And Forget It With Take Profit And Stop Loss Orders
"Set it, and forget it" is a phrase associated with marketing infomercials where the host brags about the convenience the product provides. But believe it or not, there is a way to apply this strategy to trading positions using PrimeXBT.
Any long or short position can also add a take profit or stop loss that triggers when the price is reached. This allows traders to better protect any capital that is on the line by setting a value that will strategically close out the position to prevent loss.
On the flipside, take profit orders allow traders to sit back, and let a position reach its intended target. In the example below, a user could simply open a long in Bitcoin, set a take profit order for $100,000, and then wait patiently for that prophecy to ultimately be fulfilled (or not). With these parameters set, a trader can literally "set it, and forget it."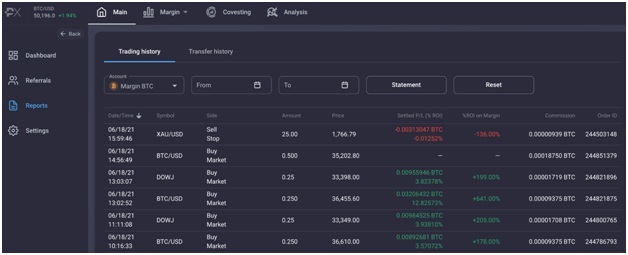 Reporting Section Adds Stress-Free Accounting And Taxes
If there is anything you wouldn't want to forget, it is to pay your taxes. Failing to properly report taxes can lead to fines or jail time, so proper accounting is a must. Thankfully, for users' convenience, PrimeXBT recently introduced a Reports section with detail transaction, trading, and transfer information that can be exported into a printable statement for accounting and tax reporting purposes,
The Reports section is also helpful for those that seek to review their profits and losses and track trades within a trading journal. The tool lets users filter by date and even by margin account for even greater flexibility and detail.
Customer Service And Help Is Available Whenever You Need It
PrimeXBT takes two different approaches to customer service: proactive, and reactive. Proactive customer support arrives in the form of a detailed Help Center filled with guides and walkthroughs on how to use the platform and get the most out of the tools offered. In addition, PrimeXBT offers a blog with trading tips, market reports, and much more updated on a semi-weekly basis. Again, all of this is offered proactively to users at no cost.
Reactively, in case there are questions or in the rare chance something goes wrong, 24/7 live customer support staff is always on and ready to assist. The platform's customer service has been recognized by independent crypto market influencers who called attention to the quick service they received compared to other competitors.
Covesting Copy Trading Brings Convenience To Novice Traders
For the convenience of novice traders everywhere, or those who are tired of all the technical analysis required before taking a position, there is the Covesting copy trading module. The Covesting copy trading module is a peer-to-peer copy trading community where followers can browse a list of strategy managers who are all ranked by total profits in a global leaderboard system.
The leaderboards provide transparent risk and success metrics, so followers can select a strategy manager that best suits their goals, needs, risk appetite, and more. Even with visibility into each strategy manager's performance, the Covesting module on PrimeXBT gives users tools to stop loss or take profit from a following.
There is a benefit for strategy managers also, as they make a cut. But clearly, the convenience factor is in favor of the follower, who no longer has to manage positions actively on their own, no longer has to perform technical analysis, and in general, can make money with less stress overall.
More Convenience Is Coming FromCovesting And PrimeXBT
Following the theme of infomercials, another common phrase has always been "but wait, there's more." PrimeXBT and Covesting are partnering once again this time to bring unmatched convenience to the DeFi sector of the crypto market.
This coming Q3 2021, Covesting Yield Accounts will debut on PrimeXBT and will offer a way to easily connect to top DeFi protocols, without all the technical expertise related to connecting wallets to the blockchain, and more.
Using Covesting Yield Accounts, the tool will offer up to 35% interest on idle crypto assets such as BTC, ETH, USDT, and USDC. By staking COV tokens within the Covesting section of the PrimeXBT dashboard, users can activate additional account level utilities for followers and strategy managers within the Covesting ecosystem.
PrimeXBT even recently added the ability to purchase COV tokens for Covesting users' convenience.
Summary
Everything about the platform speaks of the convenience that comes from a client focused approach. With more than 50 assets under one roof, a free mobile app, and so much more, PrimeXBT is a one-stop-shop filled with trading convenience.