Introduction
People search engines are websites that allow you to uncover information and details about people. Say you meet someone for the first time, and you are trying to understand the type of person they are. To do this, you need certain information about them, such as their family members, the type of work they do, and other pointers that describe the person in a more detailed manner.
While you may not be able to simply walk up to them and ask them about these details, you can get this information by using a people search engine. These search engines or websites provide these details by culling information from governmental and verifiable databases. As long as you provide the right parameters, you can expect to get the correct results regarding the person you are researching.
5 Best People Search Sites in 2023
As you can imagine, there are numerous people search engines on the internet, and all of these search engines have different offerings and services. To this end, we have reviewed many of these search engines and selected the best five.
The best five people search sites in 2023 are as follows;
Search People Free
Overview of Search People Free
Search People Free is one of the leading names when it comes to researching people online. The website provides an excellent and impressive service that allows users to discover information about other people. The search engine comes with four search options, meaning that if you have either of the four parameters, you can uncover detailed information about anybody. These search options include name search, address lookup, phone lookup, and email search.
Another impressive feature of this search engine is that it is free to use. As against the modus operandi for many search engines, Search People Free does not require payments or a subscription for you to use the platform. While other search engines require one-time payments or periodic subscriptions, Search People Free allows you to conduct research on people without any charge. All you need is a few clicks while rolling the site
Finally, the website provides accurate and reliable information when you use it to research people. The essence of using a people search engine is to get actionable information on people. If this information happens to be wrong or inaccurate, the whole point of the research is defeated.
Pros of Search People Free
It is free
It provides detailed information
It has four search options making it easy to search on the website
The website is easy to use
Cons of Search People Free
The website is only popular in the United States of America.
Family Tree Now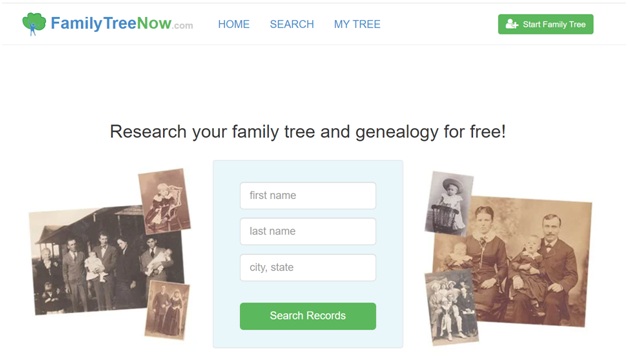 Overview of Family Tree Now
As the name of the website suggests, Family Tree Now is more popular for finding family members across the internet and building a family tree. It also means that one of the information you find when you use Family Tree Now as your go-to option for researching people is their family tree.
The website boasts of having about 50 million visitors every month, and this can be attributed to the ease of using the website as well as getting the information that you need. The number of visitors recorded by the website also means it has an extensive database, and you are more likely to find accurate information about the person you are researching.
The most appealing feature of this website is that it does not require you to have an account or profile with the website before you can use it. All you need to do is log on to the website and start researching the person you have in mind.
Pros of Family Tree Now
You do not need a profile to use the website
It is easy to use and navigate
It provides detailed results on search objects
It provides details about the family tree of the person you are researching.
Cons of Family Tree Now
The links to its public records are not readily available.
True People Search

Overview of True People Search
One of the highlighting features of this people search engine is its platform is user-friendly. This means that the website is very easy to navigate, as you need very little or no guidance to use the platform. All you have to do is log on to the website and provide the parameters for the search. Once you do this and hit the search button, your results get displayed as soon as possible.
Apart from the ease of using the website, the results provided by the platform are also detailed and accurate. This is because the website uses reliable databases and records as its source.
Pros of True People Search
It is free to use
It provides detailed search results
The website is easy to use
Cons of True People Search
It does not offer multiple search options. You can only search by using the name and phone number.
PeekYou
Overview of PeekYou
The website allows you to search for people by using their names, email addresses, and phone numbers. This means that when you have any of these three details, you can carry out a detailed background check on the person you are researching.
The website does not only use information from reliable databases but also culls information from over 60 social media platforms and networks. Therefore, whether you are looking to vet a potential employee or you want to reconnect with long-lost family members and friends, PeekYou helps you find accurate information at all times.
Pros of PeekYou
It has an extensive database which makes it a very good source of information about people.
It has the reverse email search function.
It does not collect information on users without their consent
Cons of PeekYou
The phone number search option is only available in the US.
MyLife
Overview of MyLife
If you are looking to do a complete background check on an employee, colleague, classmate, or anybody for that matter, you can do that using MyLife. MyLife is a people search engine that uncovers a wide range of information about people, including court and criminal records, public records, contact details, and many more.
The search engine allows you to search using the person's name, email address, and phone number.
More importantly, the website is free to use. It does not require any form of payment or subscription before you can use the website for your search. This means that while you are registering for a profile on the website, you do not need to provide your credit card or financial information.
Pros of MyLife
It is free to use
Its results are extensive and detailed
It allows for multiple search options
Cons of MyLife
You need to create a profile before carrying out searches on the website
It is not very easy to navigate around and use the platform
Conclusion
In a world that is heavily interconnected and allows for the meeting of new people on a random basis, it is important that you are able to research the people you engage and relate with. This will put you in an advantaged position where you know almost everything you need to know about the person.
People search engines make this possible. We reviewed five of the best people search engines available on the internet in 2023 in this article and discovered that Search People Free remains the best.