The designer jewelry on the fashion runways have made the season's trend clear: minimalism, geometric shapes, collar necklaces, organic materials (abalone has been making a splash), and mixed metals. 
Must Read "Street Style Jewellery"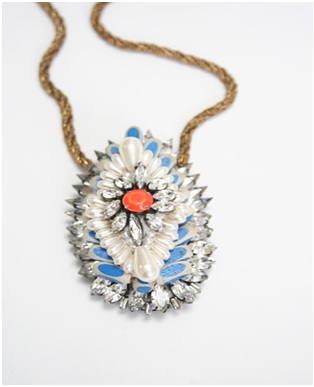 What clothing trends should you be looking to buy into to match your fabulous adornments?
Color: Black and White
Monochrome is the contrast that never fails, never goes out of style, and always a go-to for stylish elegance. Thankfully, this faithful trend has hit the runways yet again this season, and you don't always have to keep the two colors together; all white or all black is just as striking.
If shopping from the comfort of your cough is your thing, then looking to online collections would be a good thing to do– they stay on trend and specialize in unique apparel in neutral hues.
Color: Pastels
Icy pastel colors were spotted all over the 2014 spring/summer runways – and all different hues, from pale pink to purple, green, blue, and coral. What seems to be a different this year from any previous pastel trend is that the colors have been modernized with flattering silhouettes that can be worn both to the office (black, white, and navy aren't the only appropriate colors to wear to work!) or for a relaxing day out in the sun. The calm shades are made even more feminine with the addition of sheer fabrics and contrasting silhouettes, but don't make the mistake of thinking that it all has to be flowing dresses, baby blue shorts or mint green bomber jackets can turn this into a sporty look.
Material: Knits
Lightweight knits are to be a staple for the cooler spring days – look for those in the colors mentioned above, with a bold print, or an interesting cut to stay on trend. Knits certainly aren't just for winter, once you push out thoughts of the chunky, wooly knits from your mind you'll find some chic options from the online collections that are made from a soft blend of cotton and cashmere.
Style: Masculine Chic
Masculine-styled women's apparel has come a long way from past seasons' 'boyfriend jeans'.  What you'll find now is less obvious and more of a merge of the man and woman: masculine tailoring in feminine textures or materials. For those who prefer to stay away from frills, a tailored pastel blouse coupled with straight-leg pants and an oversized blazer is a good way to style this trend. If you're a tomboy by nature but still want to look elegant, this trend will surely make shopping easier on you.
Style: Wide-leg Pants
Straight-cut pants are, of course, still fashionable, but if you're not a fan of the constricting skinny jeans, wisping wide-legs are a great alternative. Despite what the magazines show you, you don't have to be a super tall, slender supermodel to pull this off; a pair with a higher waist and slimmer flare will elongate your frame; wear that with a tucked-in shirt or plain t-shirt and you'll be ready to go!
From Where to Buy Designer Jewelry
One of the most sought-after things is jewelry. It is a well-known fact that many women cannot leave the house without adorning a piece of jewelry on a part of their bodies. Ranging from earrings, bracelets, necklaces and more, these beauty items are important for adding to the beauty of a woman's body. The internet has made the process of buying jewellery easy for you. Let us look at the advantages of getting what you need from online stores.
Advantages of buying Designer Jewelry Online
A Wide Range of Choices
When looking for ornaments to match with your attire, you have the chance to get all you need on the internet. There are so many online stores that stock a wide variety of jewellery for you to pick what suits you. The wide variety gives you an endless choice to pick from. This makes it easier for you to get what is suitable for you.
Buy Items from Anywhere You Are
Shopping online for jewelry provides you with the convenience you need. With the prominence of mobile devices that can access the internet from anywhere around the world, you have the ability to access stores and purchase what you need.
Save Time
Normally, you have to go from one store to another to get the ornaments you need. With Adinas Jewels, you are able to get all you want from the same place. You can compare different pieces of jewelry from various manufacturers from the same place. This saves you a lot of important time. 
Get Better Bargains
One of the best benefits of buying jewellery from online stores is the ability for you to buy items at cheaper prices than normal. Compared to what is offered in conventional shops, you will get to enjoy lower prices when you buy ornaments online. This is because online shops do not have the same overhead costs as compared to brick and mortar stores. This makes it possible for you to get jewellery at affordable prices.
Jewellery is a woman's best friend. The advent of the internet has made it possible for you to get the ornaments you need online. You will be able to choose from a wide range of items as well as save time and get better bargains. You can also get what you want from the comfort of your home.